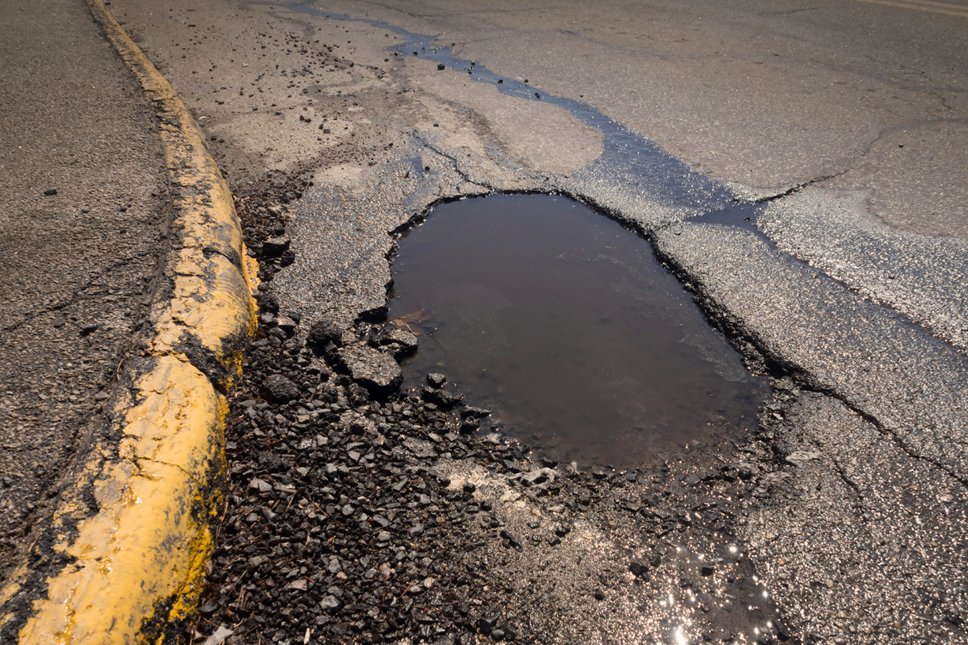 Councils spend millions on pothole damage claims every year*
New data shows that councils in England and Wales have spent £5.6 million since 2020 on pothole claims
Damage to cars caused by potholes is costing councils across England and Wales millions each year, new research from Go.Compare Car insurance has revealed.
The comparison site submitted more than 300 Freedom of Information (FOI) requests to councils across England and Wales to uncover the extent of the potholes plaguing roads.
It found that, from January 2020 to December 2022, councils in England and Wales paid more than £5.6 million to drivers claiming for damage caused to their vehicles by potholes.
Lincolnshire County Council topped the list of councils that paid the most in damages during this period. It paid compensation to the tune of £565,248.35 to drivers whose cars had sustained damage caused by potholes on its roads.
Go.Compare can also reveal the top ten councils that have paid out most in pothole compensation from January 2020 to December 2022.
| | |
| --- | --- |
| Council | Spend on driver claims (January 2020- December 2022) |
| Lincolnshire County Council | £565,248.35 |
| Shropshire Council – Unitary | £461,624.00 |
| Staffordshire County Council | £352,844.33 |
| Hampshire County Council | £200,749.05 |
| Royal Borough of Kingston upon Thames | £193,364.93 |
| Northumberland County Council | £193,000.98 |
| Oxfordshire County Council | £184,286.00 |
| London Borough of Havering | £168,000.00 |
| Lancashire County Council | £159,619.05 |
| London Borough of Brent | £153,200.80 |
According to Go.Compare's research, even though Derbyshire County Council topped the list of council's when it came to the number of potholes reported in both 2020 and 2021, but it has not paid as much compensation as Lincolnshire, which paid £565,248.35 in damages. By comparison, Derbyshire paid just £141,572.73 to affected drivers across three years - less than a third of Lincolnshire's pothole bill.
Ryan Fulthorpe, Go.Compare's motoring expert, said of the research: "It's disheartening to see how much money is being spent by councils on pothole claims, and not just for the drivers who have been affected, but also for those footing the bill – the taxpayer.
"In the event that you are unlucky enough to sustain pothole damage to your vehicle, there are a couple of things you should do if you want to make a claim to your local council. The first thing is to take a photo of the damage to your car and, if it is safe to do so, take a picture of the pothole that caused the damage.
"You should also try to pinpoint the location of the pothole so you can report it properly, as the more information that you can gather about the damage to your vehicle and what caused it, the better, " Ryan added.
Go.Compare has written a guide about claiming for pothole damage, which can be found here: https://www.gocompare.com/carinsurance/guide/potholes/.
- Ends –
Contact Information
Rubie Barker
Notes to editors
*Data obtained through FOI requests or readily available on council websites, from date ranges varying from 1st January 2020 to 31st December 2022. All further data is from this source.
For further information please contact:
Lynsey Walden – lynsey.walden@gocompare.com
Kath Chadwick – Kathryn.chadwick@gocompare.com
Or you can call 02920 020360.
Keep up-to-date with GoCompare on Twitter; @Go.Compare
Notes to editors
About Go.Compare
Go.Compare is a comparison website that enables people to compare the costs and features of a wide variety of insurance policies, financial products and energy tariffs.
It does not charge people to use its services and does not accept advertising or sponsored listings, so all product comparisons are unbiased. Go.Compare makes its money through fees paid by the providers of products that appear on its various comparison services when a customer buys through the site.
When it launched in 2006, it was the first comparison site to focus on displaying policy details rather than just listing prices, with the aim of helping people to make better-informed decisions when buying their insurance. It is this approach to comparing products that secured the company an invitation to join the British Insurance Brokers' Association (BIBA) in 2008, and it is still the only comparison site to be a member of this organisation.
Go.Compare has remained dedicated to helping people choose the most appropriate products rather than just the cheapest and works with Defaqto, the independent financial researcher, to integrate additional policy information into a number of its insurance comparison services. This allows people to compare up to an extra 30 features of cover.
Go.Compare is part of Future Plc and is authorised and regulated by the Financial Conduct Authority (FCA).
More information can be found here www.gocompare.com