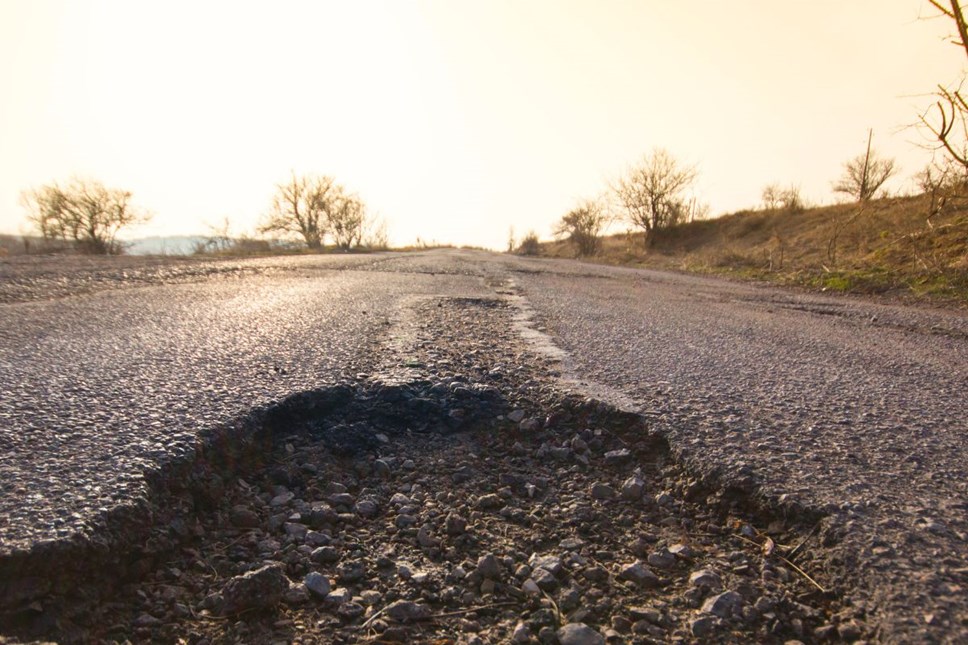 2.4 million potholes reported across England and Wales*
New data reveals drivers in England and Wales face pothole potluck as they head to the roads this summer.
New research from Go.Compare car insurance has revealed the areas in the UK where drivers are likely to face the most potholes.
Go.Compare submitted more than 300 Freedom of Information (FOI) requests to councils across England and Wales, to determine which of the UK's roads needed the most pothole repair work. It found that Derbyshire County Council tops the list, with 215,787 potholes reported between January 2020 and December 2022.*
Both Durham and Lancashire County Councils also reported more than 180,000 potholes in the same three-year period, as four of the five counties to feature in the top five are northern counties.
| | |
| --- | --- |
| Councils | Number of reported potholes (2020-2022) |
| Derbyshire County Council | 215,787 |
| Durham County Council | 189,821 |
| Lancashire County Council | 189,461 |
| Surrey County Council | 142,564 |
| Northumberland Country Council | 132,319 |
| Oxfordshire County Council | 79,795 |
| Kirklees Council | 73,721 |
| Somerset Country Council | 59,185 |
| Staffordshire County Council | 58,689 |
| Kent County Council | 58,284 |
Derbyshire County Council also topped the list on an annual basis, with the most potholes reported in both 2020 (73,435) and 2021 (75,677). Although Lancashire County Council beat them to the top spot in 2022, reporting 67,439 potholes.
However, it isn't just motorists in the north of England who are being driven round the bend by potholes – the roads of picturesque Somerset, Surrey, Oxfordshire, and Kent also feature in the top ten.
Ryan Fulthorpe, Go.Compare's motoring expert, commented on the findings: "It is clear that potholes are a huge concern for motorists, whether because of the potential for accidents, or the risk of costly repairs to their cars. In fact, we conducted a recent survey which found that 48% of motorists name potholes as their biggest worry.** In the Spring Budget, the government even pledged a further £200 million to tackle the potholes plaguing UK roads, highlighting the scale of the problem.***
"As holidaymakers pack up for long, scenic drives this summer, the sheer number of potholes could really dampen spirits on those sunnier days. And while the quality of the roads is out of drivers' control, there are things we can do to limit the risks to our cars – and our wallets.
"Firstly, make sure you always take caution when driving, particularly on unfamiliar roads. Research your route before you travel and pay close attention to any road warnings. If you are particularly worried about potholes, try avoiding particularly narrow and rural roads, as these may be less frequently maintained.
"If you do hit a pothole, make sure you report it – whether you intend to make a claim or not. Collect evidence to identify the potholes, note its location and take a photo of the pothole (as long as it is safe to do so). Photograph any damage it has caused and save this information to report to the relevant authority.
"As pothole damage to your car can prove expensive, it is important to have the right car insurance policy in place. A fully-comp policy will help protect you if the worst happens, so you can instead focus on getting back to enjoying the open road."
Learn more about claiming for pothole damage, here: https://www.gocompare.com/car-insurance/guide/potholes/.
- Ends –
Contact Information
Rosie Johns
Notes to editors
Notes to editors
*Data obtained through FOI or readily available on council websites, from date ranges varying 1st January 2020 to 31st December 2022.
**On 7th-11th April 2023, a survey of 1543 randomly selected motorists from Great Britain was undertaken by Maru Public Opinion and executed by Maru/Blue. For comparison purposes, a probability sample of this size has an estimated margin of error (which measures sampling variability) of +/- 2.5%. The results have been weighted by age, gender, region and social grade to match the population, according to Census data. This is to ensure the sample is representative of the entire adult population of Great Britain. Discrepancies in or between totals are due to rounding.
*** Additional Budget 2023 highways maintenance and pothole repair funding, 2023 to 2024 - GOV.UK (www.gov.uk)
For further information please contact:
Lynsey Walden – lynsey.walden@gocompare.com
Kath Chadwick – Kathryn.chadwick@gocompare.com
Or you can call 02920 020360.
Keep up-to-date with GoCompare on Twitter; @Go.Compare
Notes to editors
About Go.Compare
Go.Compare is a comparison website that enables people to compare the costs and features of a wide variety of insurance policies, financial products and energy tariffs.
It does not charge people to use its services and does not accept advertising or sponsored listings, so all product comparisons are unbiased. Go.Compare makes its money through fees paid by the providers of products that appear on its various comparison services when a customer buys through the site.
When it launched in 2006, it was the first comparison site to focus on displaying policy details rather than just listing prices, with the aim of helping people to make better-informed decisions when buying their insurance. It is this approach to comparing products that secured the company an invitation to join the British Insurance Brokers' Association (BIBA) in 2008, and it is still the only comparison site to be a member of this organisation.
Go.Compare has remained dedicated to helping people choose the most appropriate products rather than just the cheapest and works with Defaqto, the independent financial researcher, to integrate additional policy information into a number of its insurance comparison services. This allows people to compare up to an extra 30 features of cover.
Go.Compare is part of Future Plc and is authorised and regulated by the Financial Conduct Authority (FCA).
More information can be found here www.gocompare.com or here https://www.futureplc.com/brands/.