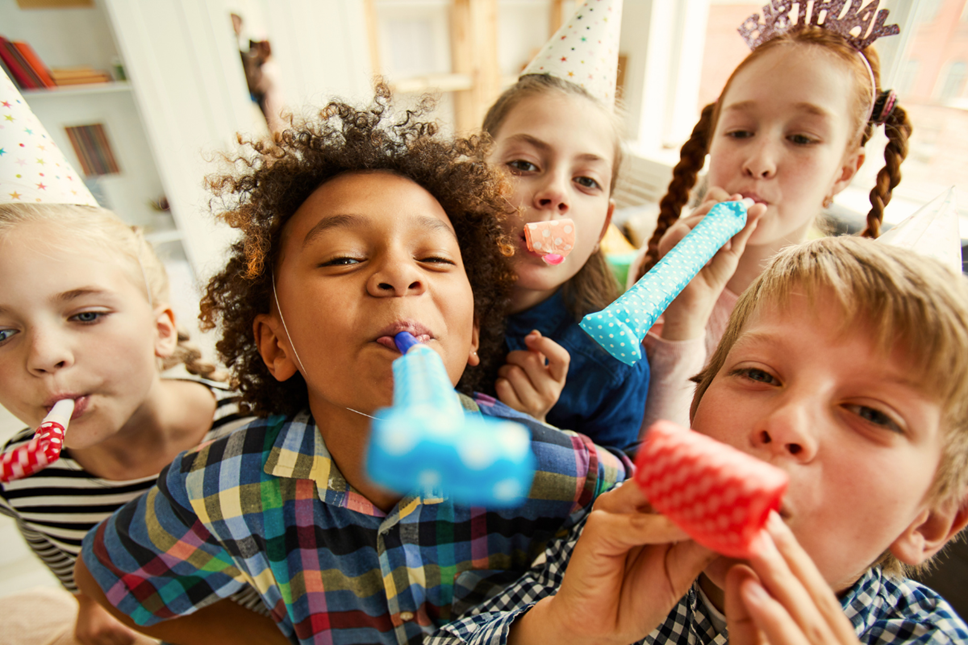 Don't forget the card! A quarter of parents are paying for kids' birthday parties using a credit card
According to new research from Go.Compare money, parents are spending an average of £298 on kids' birthday parties
New research from Go.Compare money has revealed that a quarter of parents (26%) who host a birthday party for their child will be covering their costs on a credit card, and over a third (36%) have said they'll be using their savings to pay for the celebrations.
The research, which surveyed over 500 parents with children aged 5-12 across the UK, found that 70% of the respondents are planning to host a birthday party for their offspring, and spend an average of £298 on the occasion.
25% of the parents who took part admitted that they spend more than they would like organising children's birthday parties, but a further 24% claimed that they love having a party for their child and will spend as much as they need to. 37% of respondents said they try to limit the guest list to save money and 23% said they felt under pressure to put on an event.
Over one in ten (14%) parents said they will be sharing or co-hosting a party with another family to save money. But over a third, (36%) said that they would be using savings to pay for their child's birthday party and a further 26% will be putting it on the credit card.
Matt Sanders, money expert at Go.Compare, said on the research: "As a father of two young children, I know that hosting a party is a great way to celebrate your child's birthday, but I'm also all too familiar with the cost that comes with it.
"There's definitely an unspoken pressure to host a party, but there are ways to keep costs down – and the research shows that some parents are already joining forces to share the burden. But it's worrying that a number of the parents who took part in the survey are using credit cards or savings to pay for the celebrations. While credit cards can offer a convenient way to pay for things, it's important that you consider the pros and cons of using this method of payment and whether it's the right option for you. Planning as far as you can in advance will also help, if you set a budget and stick to it and try to save up in advance, you may not have to borrow the money at all."
For those who are planning on using a credit card to pay for parties, Go.Compare has compiled some tips on how to manage any credit card debt:
Firstly, make sure you consider the right card for your requirements. There is a wide range available in the market – for example, you might be looking to earn rewards as you spend, spread out the cost of a big purchase, transfer existing debts to a lower interest rate, or build up your credit history. So, when you're choosing your card it's important to consider what you need it for.
Make sure you shop around for the best deal, check what fees or charges might be involved and work out what repayments you would be able to afford.
When it comes to paying for an event on a credit card, it will also give you some protection under section 75 of the consumer credit act. This allows you to raise a claim against the credit provider in the case of a breach of contract or misrepresentation by the supplier of goods or services. For example, if your caterer or entertainment fail to show up, you may be able to reclaim any costs incurred from your credit provider if the supplier fails to refund any costs.
When your card statement arrives, try to make more than the minimum repayment. Interest is added to any outstanding balance so the longer you take to repay the debt, the more money you will owe.
If you have more than one card, think about switching your balance to a card with an extended 0% period on balance transfers. Alternatively, if you are unlikely to repay a significant part of your debt during the 0% period, switch to a card with a low interest rate for the lifetime of the balance transferred. This will immediately reduce the interest rate until the debt is paid off.
Protect your credit score by using a soft search before applying for a credit card.
Avoid fees for missed payments and cash.
If you are facing significant financial difficulties, talk to your credit card provider to see what help is available in terms of a payment holiday or a new repayment plan.
Matt continued: "The most important thing to remember if you are using a credit card is to make your monthly payments on time, or aim to pay the full balance each month to avoid incurring fees and high interest rates."
Go.Compare has more information about managing a credit card in this guide: https://www.gocompare.com/credit-cards/making-cards-work-for-you/
Contact Information
Rubie Barker
Notes to editors
Data source: A Maru Public Opinion online survey of 520 randomly selected parents of children aged 5-12 from Great Britain June 2-5, 2023, completed by the panel and data management experts at Maru Blue. For comparison purposes, a probability sample of this size has an estimated margin of error (which measures sampling variability) of +/- 4.3%.
The results have been weighted by age, gender, region and social grade to match the population, according to Census data. This is to ensure the sample is representative of the entire adult population of Great Britain. Discrepancies in or between totals are due to rounding. Maru Public Opinion is a member of the British Polling Council (BPC).
For further information please contact:
Lynsey Walden on lynsey.walden@Gocompare.com, or Kath Chadwick on Kathryn.chadwick@Gocompare.com.
Keep up-to-date with Go.Compare on Twitter; @Go.Compare
About Go.Compare
Go.Compare is a comparison website that enables people to compare the costs and features of a wide variety of insurance policies, financial products and energy tariffs.
It does not charge people to use its services and does not accept advertising or sponsored listings, so all product comparisons are unbiased. Go.Compare makes its money through fees paid by the providers of products that appear on its various comparison services when a customer buys through the site.
When it launched in 2006, it was the first comparison site to focus on displaying policy details rather than just listing prices, with the aim of helping people to make better-informed decisions when buying their insurance. It is this approach to comparing products that secured the company an invitation to join the British Insurance Brokers' Association (BIBA) in 2008, and it is still the only comparison site to be a member of this organisation.
Go.Compare has remained dedicated to helping people choose the most appropriate products rather than just the cheapest and works with Defaqto, the independent financial researcher, to integrate additional policy information into a number of its insurance comparison services. This allows people to compare up to an extra 30 features of cover.
Go.Compare is part of Future Plc and is authorised and regulated by the Financial Conduct Authority (FCA).
More information can be found here www.Go.Compare.com or here https://www.futureplc.com/brands/.