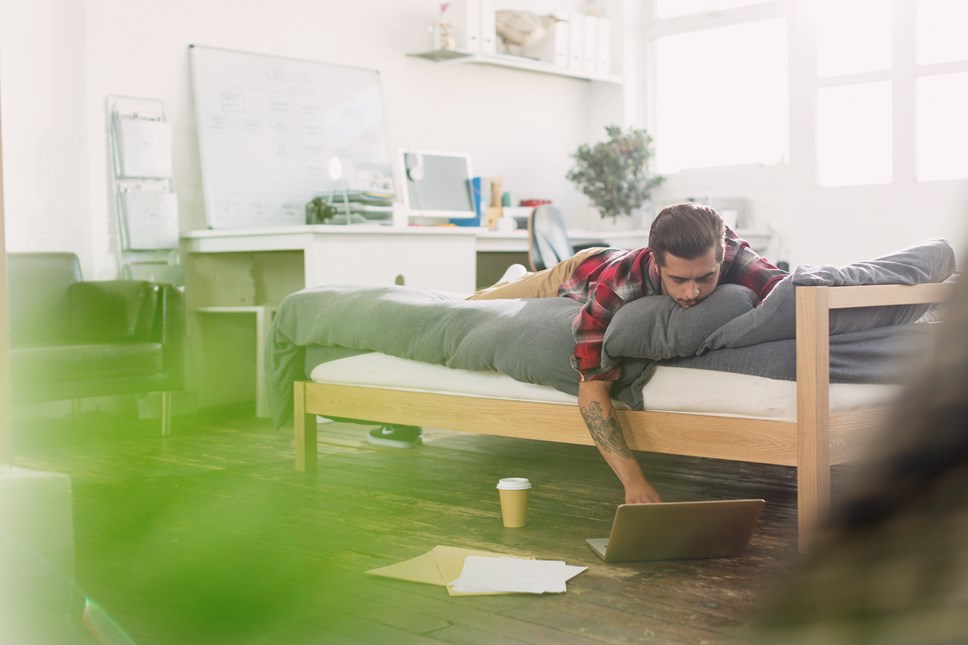 Young drivers warned of the spectre of 'ghost brokers' on social media
GoCompare Car Insurance warns thousands of motorists could be driving uninsured after buying 'too-good-to-be-true' car insurance;
Unsuspecting victims face serious consequences including disqualification from driving or a criminal record;
GoCompare Car Insurance is warning drivers to swerve heavily discounted car insurance deals they see advertised on social media or marketplace websites, and to trust their gut instincts. Victims of fraudsters, known as 'ghost brokers', lose on average £7691 and face penalties for uninsured driving.
Ghost broker is the name given to someone who poses as a legitimate insurance broker to sell forged or invalid car insurance policies to unsuspecting drivers, who are lured by very cheap, too-good-to-be-true premiums.
According to research carried out by Action Fraud2 last year, drivers aged 17 to 24, and especially young men, are most likely to fall victim to ghost brokers. Younger drivers are less experienced at buying insurance, making them easier targets, and they face higher premiums and are also likely to have tighter budgets. Plus, they are more likely to use social media, which scammers like to advertise on. Other drivers identified at being at greater risk include people in non-English-speaking communities.
In return for the promise of low premiums, ghost brokers' targets are asked for an upfront cash payment. Ghost brokers typically defraud victims in one of three ways: they may forge insurance documents, or they may manipulate the customer's details to lower the premium (for example by faking no claims discount letters or by giving a lower-risk address). They may also use the genuine identity of an unauthorised third party to set a policy up, and in some cases cancel the policy soon after to pocket the refund on top of the victim's fee.
Typically, victims are unaware they don't have genuine cover until they submit a claim following an accident or are stopped by the police for driving without insurance.
While the police may be sympathetic to victims of ghost brokers, the consequences of buying fake insurance can be the same as driving uninsured. Victims will still be deemed to be driving illegally and left liable for any claims. Sanctions for uninsured driving include; a fine, penalty points, disqualification from driving, a criminal record, and the risk of having the car seized by the police. Drivers will also be required to buy a valid policy and may find that they face higher premiums in the future.
GoCompare was the first comparison website to join the Insurance Fraud Bureau and, in December 2018, partnered with Featurespace, a globally recognized industry expert in combatting financial crime, to incorporate real time machine-learning to spot anomalies, block new fraud, and recognise genuine customers.
Fleur Lewis, head of fraud detection and prevention at GoCompare Car Insurance, commented: "Younger, less experienced drivers pay more to insure their cars – which makes them particularly susceptible to adverts for heavily-discounted insurance. Ghost brokers often operate on social media, especially Facebook and Instagram, where they often use imagery and logos of established insurers to enhance their believability.
"So, we're warning people to be highly suspicious of cheap insurance advertised on social media or websites where the deal they are being offered looks too good to be true. Drivers can save money by shopping around for cover, but if the insurance offered is significantly less than you could get on a comparison website – be suspicious.
"The financial consequences for victims can be long lasting. The minimum penalties for driving uninsured are a fixed penalty fine of £300 and six penalty points – which for newly qualified drivers could mean they lose their licence. Drivers receiving six penalty points within the first two years of passing their test will have their licence revoked."
Fleur concluded: "Ultimately, ghost broking has a detrimental effect on all drivers by increasing the cost of insurance premiums for everyone. It's a growing problem, which the insurance industry and law enforcement agencies are working together to tackle. Between 2014 and 20173 Action Fraud, the national fraud and cyber reporting centre, received in excess of 850 reports of ghost broking. But this is likely to be the tip of the iceberg. There are potentially thousands of motorists driving around unaware that they aren't insured."
Ben Fletcher, director of the Insurance Fraud Bureau (IFB), added: "Ghost broking is a serious issue, which shows little sign of slowing down. A third of all our investigations are focused on bringing ghost brokers to justice."
"When buying car insurance, we urge the public to make sure they've done the right checks first, so they are confident they are taking out cover from a trusted source. Consumers can also help in the fight against fraud by reporting any suspicious activity to IFB's Cheatline."
Ghost broker warning signs:
Be wary of unsolicited calls from insurance brokers - authorised firms are unlikely to contact you out of the blue;
Be cautious of being approached by brokers in unconventional ways such as on social media, by brokers selling car insurance in pubs or through adverts in newsagents or universities;
Be wary of brokers who only provide scant contact details (e.g. DM only on social media or mobile phone), check to see if they have an office address and landline telephone;
Check the broker firm is on the Financial Services Register and authorised by the Financial Conduct Authority or the British Brokers' Association;
If you suspect that you have been contacted by a ghost broker, or have fallen victim to an insurance fraud, you can report it to Action Fraud at police.uk / 0300 123 2040 or to the Insurance Fraud Bureau's Cheatline at insurancefraudbureau.org/cheatline / 0800 422 0421
-ends-
For further information please contact:
Anders Nilsson or Louisa Marsden at GoCompare on 01633 654 054 / 01633 655 132
Gordon, Jason or Liz at MAW Communications on 01603 505 845
Keep up-to-date with GoCompare on Twitter; @GoCompare
Notes to editors
1 City of London Police's Insurance Fraud Enforcement Department, 5 February 2018: 402 victims (not including organisations) recorded a loss of £309,163.68, averaging £769.06 per victim.
2 City of London Police's Insurance Fraud Enforcement Department, 17 September 2018.
3 From November 2014 to October 2017 Action Fraud received more than 850 reports linked to ghost broking.
For more information on Ghost Broking visit the City of London Police's website: https://www.cityoflondon.police.uk/advice-and-support/fraud-and-economic-crime/ifed/Pages/ghostbroking.aspx
GoCompare
GoCompare is a comparison website that enables people to compare the costs and features of a wide variety of insurance policies, financial products and energy tariffs.
GoCompare does not charge people to use its services, and it does not accept advertising or sponsored listings, so all product comparisons are unbiased. GoCompare makes its money through fees paid by the providers of products that appear on its various comparison services when a customer buys through the site.
GoCompare does not sell its customers' data.
When it launched in 2006, it was the first comparison site to focus on displaying policy details rather than just listing prices, with the aim of helping people to make better-informed decisions when buying their insurance. GoCompare has remained dedicated to helping people choose the most appropriate products rather than just the cheapest, and has teamed up with Defaqto, the independent financial researcher, to integrate additional policy information into a number of its insurance comparison services. This allows people to compare up to an extra 30 features of cover.
GoCompare is the only comparison website to be invited to join the British Insurance Brokers' Association (BIBA) and is authorised and regulated by the Financial Conduct Authority (FCA).
For more information visit www.gocompare.com and www.gocomparegroup.com
Contact Information
Gordon Maw