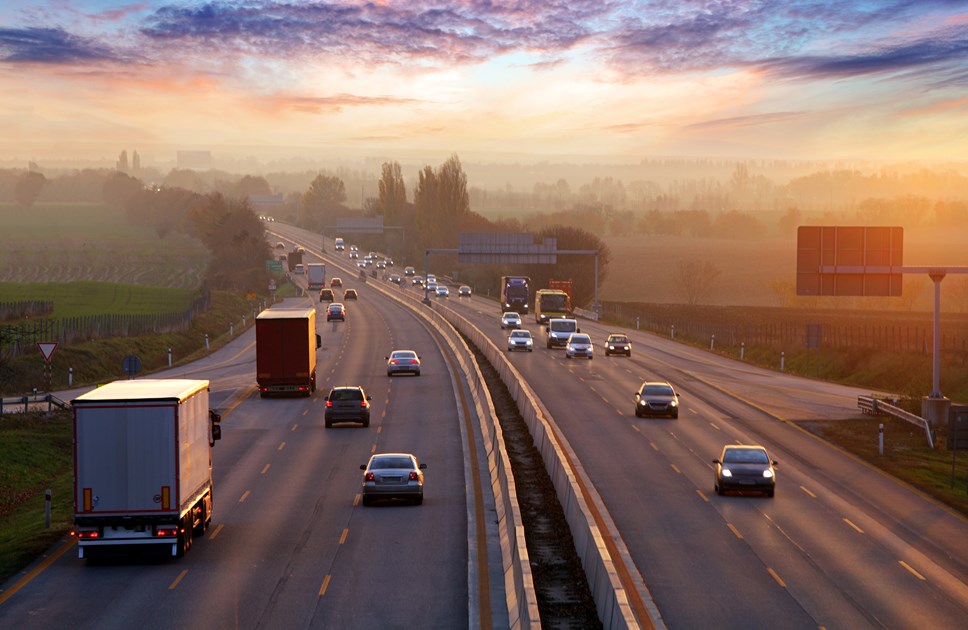 Winter warning as 16m* drivers report incidents on the road involving animals
Research reveals over half of all drivers have hit or had a near-miss with animals on the road
68% of drivers admit they wouldn't know what to do if they hit a larger animal;
GoCompare Car Insurance warns that drivers' lack of awareness could leave them out of pocket if they need to make a claim;
The most common animal to be involved is a bird (27%), but 23% of drivers have had an incident with a cat and 18% with a deer;
Those living in Scotland are most likely to do nothing and drive on after hitting an animal;
18% of drivers that hit an animal sustained damage to their vehicle, 10% resulting in an insurance claim.
New research**, commissioned by GoCompare Car Insurance, reveals that over half of all drivers have either hit or had a near miss on the road with an animal, and 68% admit they wouldn't know what to do if they hit a larger animal, such as a deer or a badger while driving.
The animals most likely to be involved in an incident with a car are:
Bird e.g. pigeon (27%)
Cat (23%)
Large game bird e.g. pheasant (20%)
Deer (18%)
Dog (17%)
Rabbit (17%)
When asked what kind of road the accident happened on, 68% of drivers said they had been on a country road, followed by 24% on a town or city road.
While the animal running out into the road was the biggest reason for the incident (66%), driving at night was blamed by 22% of drivers. Driving too fast or being distracted contributed to 8% of the incidents.
The research also showed that animal-related accidents can happen at any time of day with broad daylight (32%) being the most common of the driving conditions, followed by evening/dusk (29%).
Hit and run
When asked what action they took, 39% of drivers admitted to driving on after hitting an animal, with those living in Scotland (47%) being the least likely to stop.
What is clear from the research, however, is the impact that hitting an animal or having a near-miss can have on the driver and the car. When asked how they felt after hitting or nearly hitting an animal, only 16% of the drivers involved said they weren't affected by the incident at all.
Men were nearly three times more likely to feel unaffected (21%) than women (8%). 55% admitted they were shaken by the incident, while 28% said they have slowed their driving down as a result. 8% said the incident had affected their confidence when driving.
In terms of vehicle damage, 18% of drivers who hit an animal sustained damage to their vehicle, with 10% resulting in an insurance claim.
Comparing genders, men were twice as likely to badly damage their car after hitting an animal compared to women.
| | |
| --- | --- |
| Animal involved with car incident | Percentage of drivers reporting |
| Bird | 27.5% |
| Cat | 22.7% |
| Gamebird | 20.0% |
| Deer | 17.8% |
| Rabbit | 17.1% |
| Dog | 16.9% |
| Squirrel | 16.0% |
| Fox | 15.7% |
| Hedgehog | 11.9% |
| Sheep | 10.3% |
| Badger | 8.9% |
| Cattle | 6.6% |
| Horse | 6.6% |
| Other or unidentified | 5.8% |
Commenting on the research Lee Griffin, founder and CEO of GoCompare said, "Sadly, as our research shows, accidents and near misses with animals on our roads are something most drivers have experienced. While some encounters may not be dangerous, a close call with an animal on the road can happen anywhere and at any time. They can leave drivers badly shaken or worse, lead to accidents and expensive repair bills.
"Animals are unpredictable and as a result, these incidents are unexpected but are increasingly common, as we all spend more time in our cars. Often the type of animal isn't the issue. The action taken by a driver to avoid a bird can be just as dangerous as hitting a large mammal.
"Drivers on country roads need to take particular care, especially when driving at dusk or in the dark at this time of year when daylight time is shorter. But the reality is that we all need to be more aware of the likelihood of meeting an animal of some kind on the road. Being mindful of our speed and the distractions around us will help reduce the risk of a serious accident if the worst does happen."
What is clear is that many drivers wouldn't know what to do in the event of an accident involving an animal, but GoCompare has spoken to Adam Grogan, Head of Wildlife at the RSPCA, who offers this advice:
"Each year the RSPCA receives and attends several thousand calls regarding road traffic accidents involving deer. As a result of this, we always urge people to be cautious when driving in an area with known wildlife nearby and pay heed to warning signs indicating that wild animals may be around. If you do hit an animal while driving, we would advise people to stop and check (if it's safe to do so), as the animal may be more seriously injured than they appear.
"If you find an injured wild animal, contact the RSPCA's 24-hour emergency line on 0300 1234 999 for further advice on what to do. Always report any deer-vehicle collisions to the police and try to remember to record any deer-vehicle incidents at Deer Aware.
"Animals can scratch and bite when frightened, particularly if they are injured, so be cautious and apply common sense. Please do not try to handle or transport any injured deer, foxes, badgers, otters, swans, geese or birds of prey; keep a safe distance from them and call our emergency line for assistance.
"Always wear gloves when handling all other animals and please take them to a vet for treatment where possible. We also urge people to take care in dangerous locations, like a busy road, and ask people to always report any animal obstructing a highway to the police and call for help if you can't reach the animal safely."
Find out more about what to do if you find an injured wild animal on the RSPCA's website.
Richard Leonard, Head of Road Safety at Highways England, the Government company responsible for motorways and major A roads in England, said:
"We urge drivers to look out for animal warning signs which let you know that animals are known to be about in the area, or likely to be roaming across the road.
You may be well-traveled and on a known route where you've never seen an animal before – but there may one in nearby foliage or woodlands.
We want everyone to reach their destination safely – so my top tip is if you see an animal warning signs slow down, remain vigilant and keep your distance."
Key points
By law, you are required to tell the police if you've hit a dog, horse, cattle, sheep, pig or goat
If you hit any animal, it's best to report it to the police, particularly if it could be a pet, so that the owner can be informed
If you see a dead animal by the roadside, you can contact the local council
GoCompare has created a useful guide and infographic, featuring advice from the RSPCA and Highways England, here: https://gocompare.com/motoring/traffic-accidents-involving-animals/
-Ends-
For further information please contact:
Anders Nilsson or Louisa Marsden at GoCompare on 01633 654 054 / 01633 655 132
Gordon, Jason or Liz at MAW Communications on 01603 505 845
Keep up-to-date with GoCompare on Twitter; @GoCompare
Notes to editors
* According to GoCompare's research, 51% of drivers report either hitting an animal or having a near miss on the road. There are currently 31.7m cars on the UK's roads according to Vehicle Licensing Statistics (March 2019). 51% of 31.7 m drivers is 16.2m.
**2On 13 December 2019, Bilendi conducted an online survey among 2,000 randomly selected British adults who are Maximiles UK panellists. The margin of error-which measures sampling variability-is +/- 2.2%. The results have been statistically weighted according to the most current education, age, gender and regional data to ensure samples representative of the entire adult population of United Kingdom. Discrepancies in or between totals are due to rounding.
GoCompare
GoCompare is a comparison website that enables people to compare the costs and features of a wide variety of insurance policies, financial products and energy tariffs.
GoCompare does not charge people to use its services, and it does not accept advertising or sponsored listings, so all product comparisons are unbiased. GoCompare makes its money through fees paid by the providers of products that appear on its various comparison services when a customer buys through the site.
GoCompare does not sell its customers' data.
When it launched in 2006, it was the first comparison site to focus on displaying policy details rather than just listing prices, with the aim of helping people to make better-informed decisions when buying their insurance. GoCompare has remained dedicated to helping people choose the most appropriate products rather than just the cheapest, and has teamed up with Defaqto, the independent financial researcher, to integrate additional policy information into a number of its insurance comparison services. This allows people to compare up to an extra 30 features of cover.
GoCompare is the only comparison website to be invited to join the British Insurance Brokers' Association (BIBA) and is authorised and regulated by the Financial Conduct Authority (FCA).
For more information visit www.gocompare.com
Contact Information
Louisa Marsden
Senior PR Executive
GoCompare
01633 655 132