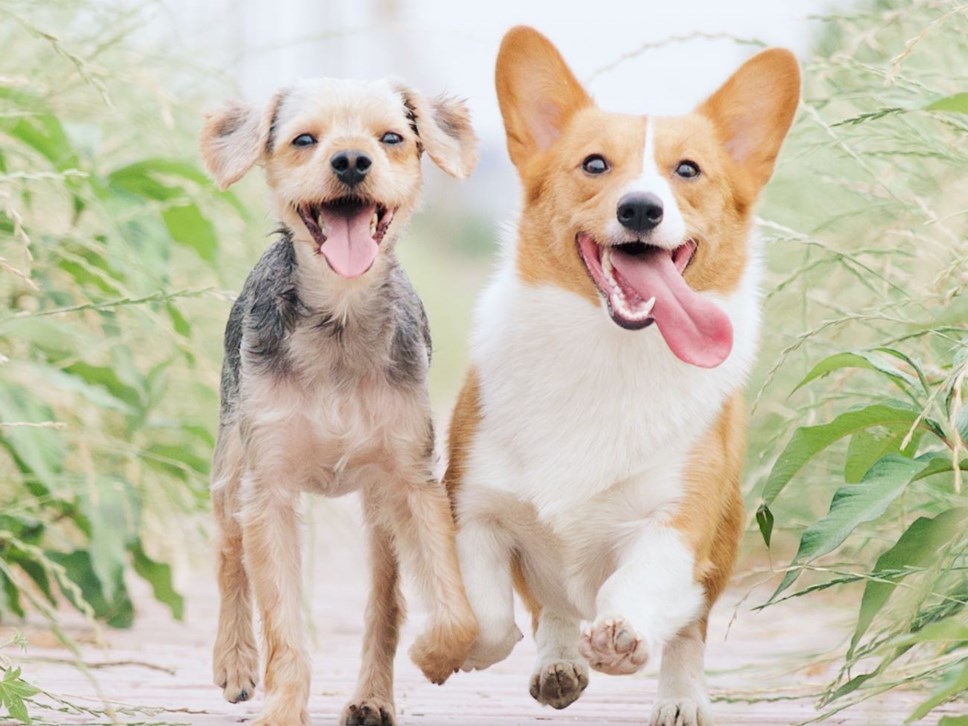 Will-ow you guess them all? These are the most popular names for dogs – by breed
Bella is the top choice for the nation's Labrador retrievers AND border collies
Pongo from 101 Dalmations is still the most popular dalmatian name
Doris, Rolo and Storm all feature as top breed name choices – but which ones?
The comparison experts at GoCompare pet insurance have looked at consumer data* to reveal the most popular pet names for different dog breeds this year. Looking at some of the nation's favourite breeds – including cocker spaniels, daschunds and Labrador retrievers – the results reveal a few surprises.
Taking a cue from 101 Dalmations, the number 1 name choice for dalmations is Pongo – after the film's four-legged hero. Films have an influence elsewhere, with Hachi as the top choice for Shiba Inu owners, who might have been inspired by 2009 film Hachi: A Dog's Tale. Name inspiration for Dobermann dogs comes from Greek god Zeus, who was most recently portrayed by Russell Crowe in Thor: Love and Thunder.
For huskies, a dog associated with snow and extreme weather, the name 'Storm' proved most popular, though surprisingly 'Millie' was the second most common choice. The top name for the slender whippet breed, meanwhile, was 'Willow'.
Unexpectedly, the most popular name for bull terriers, which have a strong and muscly appearance, was 'Doris' this year.
Some names proved popular for more breeds than one – Bella is the top choice this year for both Labrador retrievers and border collies, while Teddy gets the number 1 spot for lots of dogs including the Yorkshire terrier, bichon frise and poodle.
GoCompare pet insurance also revealed the top name choices overall – for both dogs and cats. According to the data, the most popular names are:
| | | |
| --- | --- | --- |
| | Dog | Cat |
| 1 | Bella | Luna |
| 2 | Luna | Milo |
| 3 | Milo | Bella |
| 4 | Teddy | Simba |
| 5 | Lola | Coco |
| 6 | Poppy | Charlie |
| 7 | Charlie | Nala |
| 8 | Buddy | Loki |
| 9 | Bailey | Lola |
| 10 | Daisy | Daisy |
Ceri McMillan, Pet Insurance expert at GoCompare, said: "When we think about different dog breeds, it's true that certain personality traits and names jump out – so it's no surprise to see that the nation's favourite dog name changes depending on the breed.
"Some of the top name choices we expected – such as Pongo for a dalmatian, and Storm for a Husky. However, there were surprises too. We certainly wouldn't have guessed that Doris would be the most popular name chosen by bull terrier owners, and we also found that Dobermann owners most often named their beloved pooches after the Greek god, Zeus!
"We definitely saw certain names that held their appeal, appearing as the top choice for more than one breed. Bella, Luna and Teddy came up time and again – and these names are all in the top 5 overall, too.
"Dogs vary a lot by breed, and different names will suit them best. The same can be said of pet insurance – we always recommend pet owners tailor their policy to their dog's specific requirements. Comparing policies online can help you find the perfect policy, which is just as important as finding the perfect name."
To learn more about pet insurance and the types of cover available, visit: https://www.gocompare.com/pet-insurance/
-Ends-
Contact Information
Rosie Johns