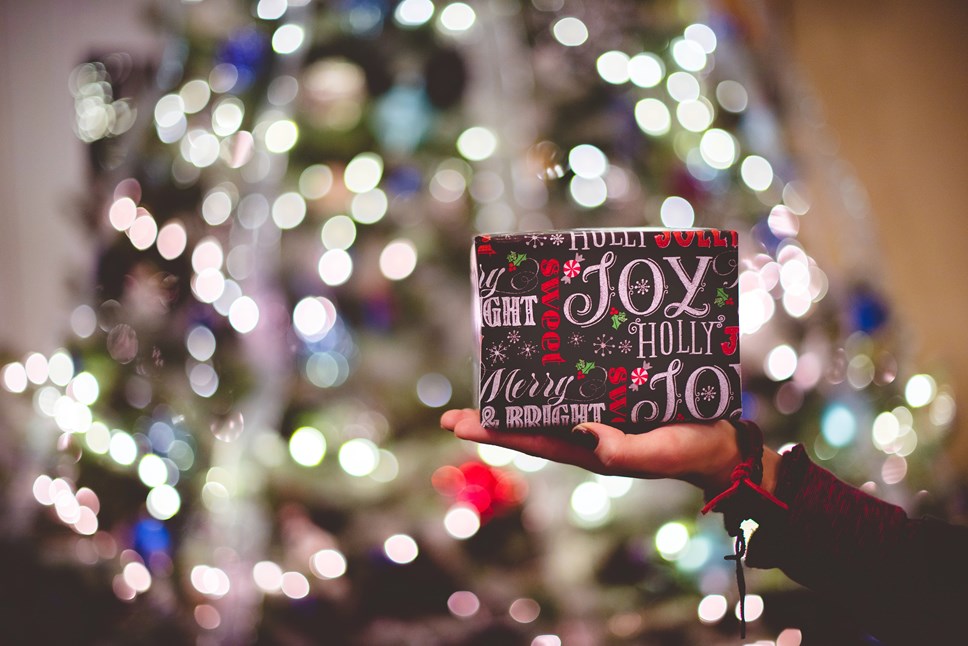 Watching TV is the top activity planned for Brits this Christmas
New research reveals that people are putting friends and fun at the top of their festive must-do lists
40% of those questioned will be watching TV on Christmas Day
A third will be celebrating at home with the family
Just under a quarter won't be leaving the house
Forget Christmas number ones - watching TV is top of the pops for Brits this year with 40% of those questioned saying they will be watching TV on Christmas Day, making it the most popular activity for festive fun this year, according to new research by GoCompare Home Insurance.
The research, which asked more than 2000 people what they are planning for Christmas Day, also revealed that a third (33%) of people will be spending it at home with their family, one in ten (11%) will be with their partner and 7% will be alone.
And, while it's fair to say the majority of us will be tucking into a tasty turkey roast dinner with all the trimmings after enjoying a visit from Santa, just under a third (32%) will actually be doing the cooking, the same number of people (5%) will be heading to the pub or to church at some point, with only 2% eating out at a restaurant or hotel.
After lockdown restrictions meant Christmas was a much quieter affair last year, friends and family are certainly high on people's priorities this year with nearly one in five (19%) planning on meeting family and friends, - 14% are planning to enjoy a family gathering, 17% will be getting out the board games or playing some festive games and 15% will be playing with the kids.
Just under a quarter (23%) of people will be staying indoors all day, with the dress code of the day also dividing the nation as 8% are planning to stay in their Christmas pjs all day, and 12% will be spruced up in their Christmas day best – with only one in five (20%) venturing out for some fresh air and a walk.
Hannah Isitt from GoCompare Home Insurance said of the findings: "It's very clear from our research that people are planning to have lots of time at home this Christmas, watching TV, playing games and cooking that all-important Christmas lunch. Although none of us want to think about anything going wrong over the festive period, our reliance on appliances like TVs, ovens and even gaming stations, means that it's more important than ever to make sure you have adequate insurance should the worse happen.
"I would also urge home owners to do some basic household maintenance checks before Christmas as it's worth spending some time getting your home winter ready. Any damage that's caused by wear and tear, or problems caused by a lack of maintenance are among the main reasons for insurers rejecting household claims.
"Check the fine print on contents and buildings insurance to ensure it is fit for purpose. Home insurance generally provides financial protection against damage to your home from things storms, ice and sometimes floods, but what happens if your boiler leaks or your freezer packs up and ruins all your Christmas food?
"While many home contents policies cover freezer contents as standard as well as accidental damage to technology and entertainment systems as standard too, you don't want any nasty Christmas surprises. Making sure you have your home insurance covered means you can concentrate on having some Yuletide fun with your family without worrying the TV might break down in the middle of the Queen's Speech."
For more information on home emergency cover visit: https://www.gocompare.com/home-insurance/home-emergency-cover/
-Ends-
Notes to editors
*1On 5-9th November an online survey of 2,009 randomly selected Great British adults was executed by Maru/Blue. For comparison purposes, a probability sample of this size has an estimated margin of error (which measures sampling variability) of +/- 2.1%. The results have been weighted by age, gender, region and social grade to match the population, according to Census data. This is to ensure the sample is representative of the entire adult population of Great Britain. Discrepancies in or between totals are due to rounding.
Contact Information
Lynsey Walden
Notes to editors
For further information please contact:
Lynsey Walden or Kath Chadwick at GoCompare on lynsey.walden@futurenet.com or kathryn.chadwick@futurenet.com.
Keep up-to-date with GoCompare on Twitter; @GoCompare
About GoCompare
GoCompare is a comparison website that enables people to compare the costs and features of a wide variety of insurance policies, financial products and energy tariffs.
It does not charge people to use its services and does not accept advertising or sponsored listings, so all product comparisons are unbiased. GoCompare makes its money through fees paid by the providers of products that appear on its various comparison services when a customer buys through the site.
When it launched in 2006, it was the first comparison site to focus on displaying policy details rather than just listing prices, with the aim of helping people to make better-informed decisions when buying their insurance. It is this approach to comparing products that secured the company an invitation to join the British Insurance Brokers' Association (BIBA) in 2008, and it is still the only comparison site to be a member of this organisation.
GoCompare has remained dedicated to helping people choose the most appropriate products rather than just the cheapest and works with Defaqto, the independent financial researcher, to integrate additional policy information into a number of its insurance comparison services. This allows people to compare up to an extra 30 features of cover.
GoCompare is part of Future Plc and is authorised and regulated by the Financial Conduct Authority (FCA).
More information can be found here www.gocompare.com or here https://www.futureplc.com/brands/.