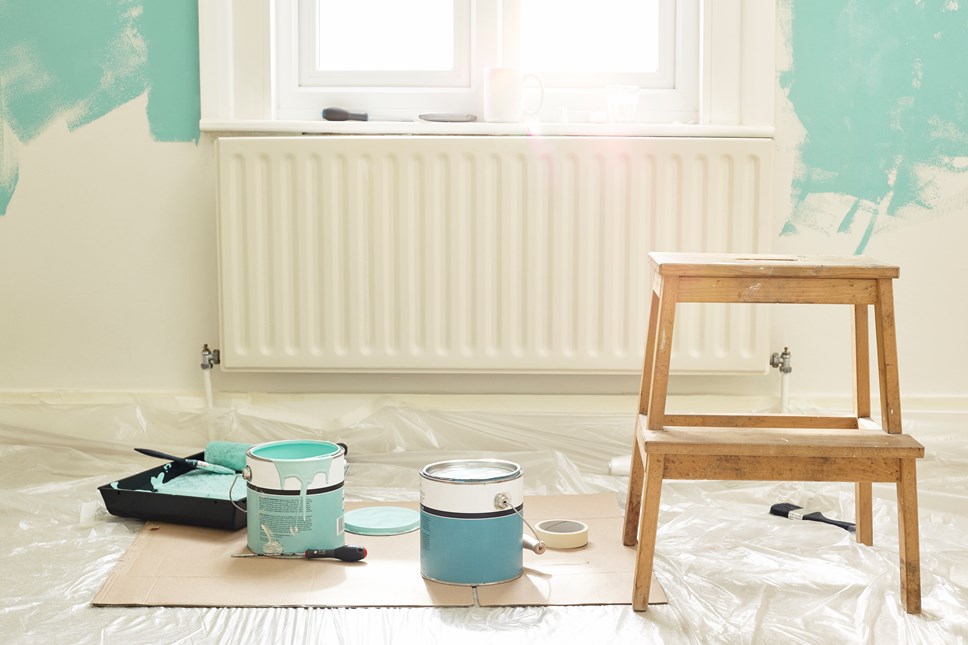 The Nation's top 10 home improvements revealed
85% of homeowners have updated their property in the last 5 years;
Interior redecoration, new bathrooms and flooring top the home improvement list;
Home fashion trends account for 8% of improvement works;
GoCompare Home Insurance warns that major improvement works might invalidate home insurance cover.
GoCompare Home Insurance's annual survey1 into the UK's top home improvements reveals that interior redecoration, updating the bathroom and replacing flooring top the list of work carried out by homeowners.
Most (85%) homeowners surveyed have updated or improved their property in the last five years. The main motivation behind undertaking improvement works was to improve the general appearance of the property (60%), followed by essential maintenance which accounted for 38% of the projects.
Nearly a quarter (23%) said they'd undertaken works with the aim of adding value to their property. For some (14%) improving their existing home made much more sense than moving, while the desire to follow the latest trends in home design and décor inspired 8% to update their home.
Although projects to improve the appearance of the property topped the list of home improvements, measures to improve the property's energy efficiency featured strongly. Installing a new boiler or central heating system, putting in double glazing, and improving insulation – all made it into the top 10.
Top 10 home improvements carried out in the last 5 years

1

Interior redecoration

46%

2

Installed a new bathroom

27%

3

Replaced the flooring

26%

4

A garden make-over

24%

5

Installed a new kitchen

24%

6

Installed a new boiler or central heating system

24%

7

Installed new windows/double glazing

19%

8

New shed or other garden building

16%

9

Exterior redecoration

13%

10

Improved the insulation

11%
Other projects undertaken by homeowners included adding a patio or garden decking (10%), extending their property (10%), knocking through rooms to create an open plan space (8%) and, electrical rewiring (8%).
However, the study also revealed that 62% of those carrying out renovations did so without telling their home insurer – potentially invalidating their policy.
Ryan Fulthorpe, from GoCompare Home Insurance explained, "Generally speaking, if you're planning to freshen-up your home with a lick of paint or by replacing the carpets, you don't need to tell your insurer. However, unless you've specifically added cover, home insurance doesn't cover accidental damage to your property or your belongings2. So, if you accidentally knock over a tin of paint while redecorating or drill a hole through a water pipe while putting up shelves, you may not be covered unless you've bought the extra protection.
"As a rule, home insurance policies also don't cover tradesmen or their work. So, before employing anyone, make sure they have their own insurance in place and check they're qualified to carry out the work and are registered with a recognised governing body."
Ryan continued, "If you're having structural work done to your property - such as knocking through rooms, adding an extension, or other works which could increase the risk of damage to your property or make it less secure – you need to speak to your insurer to ensure you have adequate cover both during and after the work has been completed. Otherwise, you could find that you're not covered or worse still you might invalidate your policy.
"Buildings insurance is calculated on the rebuild cost of a property so, if the renovation or improvement work increases its value and rebuilding cost, you'll need to increase your insurance accordingly."
To help homeowners work out how much different home improvements could add to the value of their home, GoCompare Home Insurance has produced a 'Property Investment Calculator'. The calculator shows the estimated profit after the average cost of works have been deducted: https://www.gocompare.com/home-insurance/property-investment-calculator/.
-Ends-
For further information please contact:
Anders Nilsson or Louisa Marsden at GoCompare on 01633 654 054 / 01633 655 132
Gordon, Jason or Liz at MAW Communications on 01603 505 845
Keep up-to-date with GoCompare on Twitter; @GoCompare
Notes to editors
1On 13 May 2019, Bilendi conducted an online survey among 2,004 randomly selected British adults who are Maximiles UK panellists. The margin of error-which measures sampling variability-is +/- 2.2%. The results have been statistically weighted according to the most current education, age, gender and regional data to ensure samples representative of the entire adult population of United Kingdom. Discrepancies in or between totals are due to rounding.
Only 17% of buildings and 16% of contents policies include cover for accidental damage (AD) as a standard policy feature. Most (81% of buildings and 82% of contents) policies only offer AD cover as an optional extra, 2% of buildings and 2% of home contents policies exclude cover altogether.
2Defaqto Matrix of 399 home contents and 384 buildings insurance policies (20 May 2019) - instant and unbiased market and competitor intelligence, from independent financial researcher Defaqto. Percentages are rounded up to the nearest whole number.
GoCompare
GoCompare is a comparison website that enables people to compare the costs and features of a wide variety of insurance policies, financial products and energy tariffs.
GoCompare does not charge people to use its services, and it does not accept advertising or sponsored listings, so all product comparisons are unbiased. GoCompare makes its money through fees paid by the providers of products that appear on its various comparison services when a customer buys through the site.
GoCompare does not sell its customers' data.
When it launched in 2006, it was the first comparison site to focus on displaying policy details rather than just listing prices, with the aim of helping people to make better-informed decisions when buying their insurance. GoCompare has remained dedicated to helping people choose the most appropriate products rather than just the cheapest, and has teamed up with Defaqto, the independent financial researcher, to integrate additional policy information into a number of its insurance comparison services. This allows people to compare up to an extra 30 features of cover.
GoCompare is the only comparison website to be invited to join the British Insurance Brokers' Association (BIBA) and is authorised and regulated by the Financial Conduct Authority (FCA).
For more information visit www.gocompare.com and www.gocomparegroup.com
Contact Information
Louisa Marsden
Senior PR Executive
GoCompare
01633 655 132