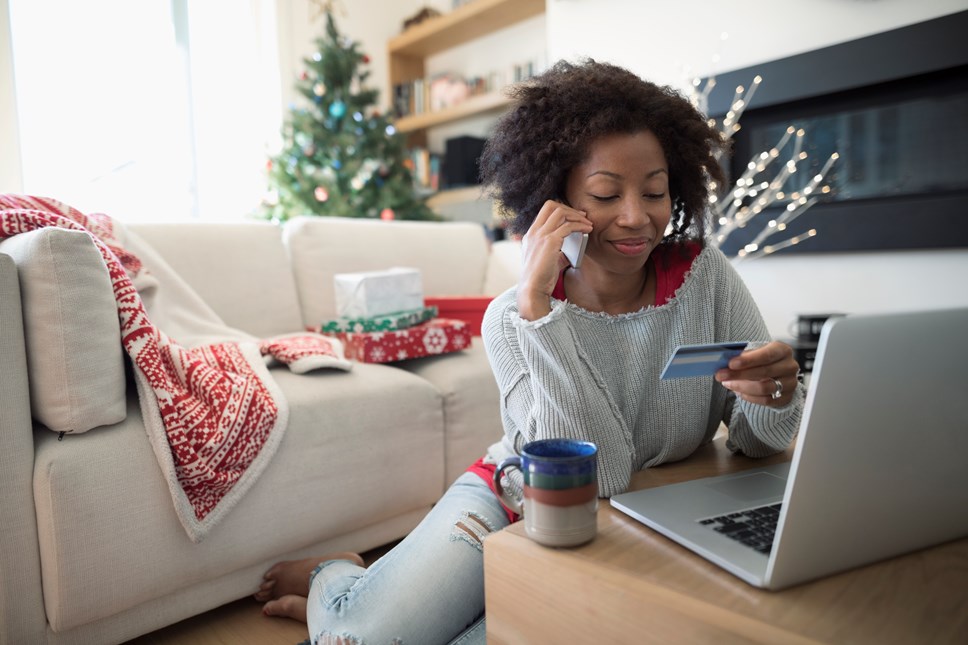 One in five Brits won't be shopping on the high street for Christmas presents this year
New research reveals that 20% of spending will be exclusively online
Just 11% of those questioned will be buying all their presents on the high street
5% will purchase gifts in independent shops where possible
New research shows that one in five Brits won't bother trying to shop exclusively on the high street this Christmas, according to GoCompare Money.
Despite shops being open as normal and lockdown restrictions lifted this Christmas, 20% of shoppers will be buying gifts for friends and family from websites online, rather than making a traditional shopping trip to high street stores this year.
The research, which asked more than 2000 people how they would be doing their Christmas shopping this year, also revealed that just one in ten shoppers (11%) would be opting to buy all their presents directly from shops, with the 65+ age group the most likely to venture to towns and cities to buy all their gifts for loved ones.
More than half of the respondents (58%) will be doing a mixture of physical and online shopping, while 5% are keen to buy from independent shops where possible.
Shopping exclusively online is most popular with the 35-44 age group with nearly a quarter (23%) opting to do it all from the comfort of their own home.
And while influencers maybe spending the next few weeks showing off possible gifts on their social media accounts it seems is an online step too far, as only 1% said they would purchase a gift directly from the likes of Facebook, Twitter, Tik Tok or Instagram.
At the time of the survey* nearly half of those questioned (45%) had made a start on their shopping, a quarter had yet to begin, with 12% not planning to start until December and a very organised 9% had already finished.
Richard Jones from GoCompare Money said of the findings: "After our reliance on shopping online during the pandemic, it's perhaps not surprising that people are continuing those habits for Christmas spending. Not only can you shop online in your festive pyjamas in the comfort of your own home, but there are usually very good deals to be had on retail websites.
"If you are after some Christmas shopping deals, there are ways you can try and bag a bargain online. For example, if you leave things in your online basket for a while, and fail to check out, some retailers will try and coax you into spending with emails advertising better prices or discount codes you can use online. At GoCompare we always encourage customers to shop around and this is much easier online than physically going to the shops because all the information you need is at your fingertips.
"Christmas is the season to be jolly but spending too much money could leave your bank balance as unhealthy as eating all those Christmas chocolates so make sure you don't impulse buy, try and draw up and stick to a budget so you don't overspend and try not to spend unnecessarily."
For other money-saving tips, visit: www.gocompare.com/money-savings-tips/
-Ends-
For further information please contact:
Lynsey Walden on lynsey.walden@futurenet.com, or Kath Chadwick on Kathryn.chadwick@futurenet.com.
Notes to editors
*1On 5-9th November an online survey of 2,009 randomly selected Great British adults was executed by Maru/Blue. For comparison purposes, a probability sample of this size has an estimated margin of error (which measures sampling variability) of +/- 2.1%. The results have been weighted by age, gender, region and social grade to match the population, according to Census data. This is to ensure the sample is representative of the entire adult population of Great Britain. Discrepancies in or between totals are due to rounding.
Contact Information
Lynsey Walden
Notes to editors
About GoCompare
GoCompare is a comparison website that enables people to compare the costs and features of a wide variety of insurance policies, financial products and energy tariffs.
It does not charge people to use its services and does not accept advertising or sponsored listings, so all product comparisons are unbiased. GoCompare makes its money through fees paid by the providers of products that appear on its various comparison services when a customer buys through the site.
When it launched in 2006, it was the first comparison site to focus on displaying policy details rather than just listing prices, with the aim of helping people to make better-informed decisions when buying their insurance. It is this approach to comparing products that secured the company an invitation to join the British Insurance Brokers' Association (BIBA) in 2008, and it is still the only comparison site to be a member of this organisation.
GoCompare has remained dedicated to helping people choose the most appropriate products rather than just the cheapest and works with Defaqto, the independent financial researcher, to integrate additional policy information into a number of its insurance comparison services. This allows people to compare up to an extra 30 features of cover.
GoCompare is part of Future Plc and is authorised and regulated by the Financial Conduct Authority (FCA).
More information can be found here www.gocompare.com or here https://www.futureplc.com/brands/.