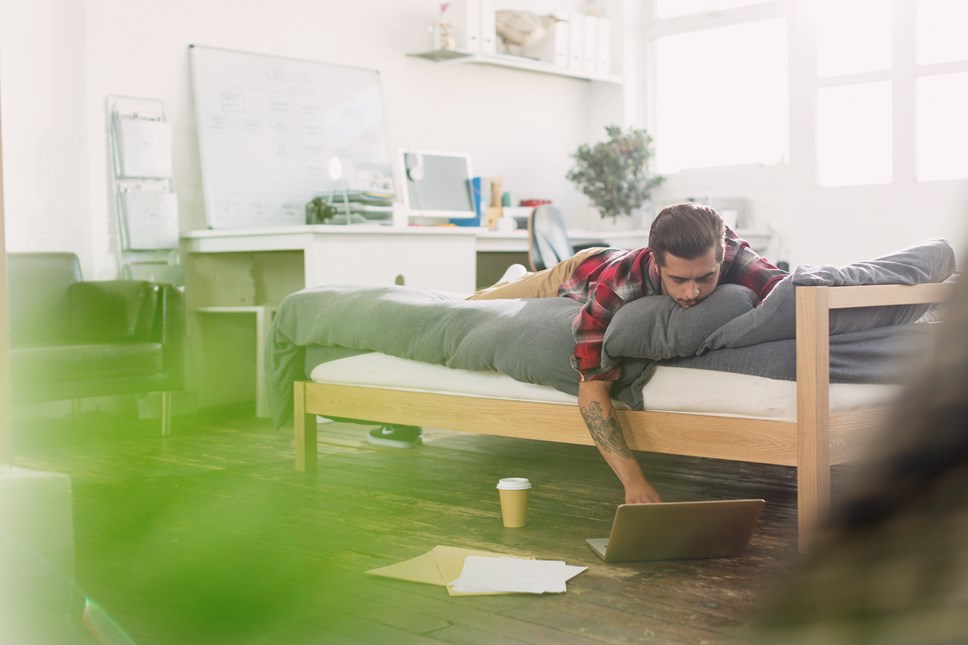 Most people working from home are unhappy with their workspace set-up
Space to think: Report finds Interruptions by kids, inadequate tech and having to move around the house to find a place to work have left 15% of home workers feeling stressed
19% say they are now fed-up with working from home
14% are working from the sofa and 6% are working from their bed
1 in 10 have experienced an embarrassing video call due to their home set-up
Half of homeworkers have had to spend money improving their working space
Most people working from home are unhappy with their workspace set-up, according to new research from GoCompare Home Insurance.
63% of home workers have experienced issues due to their inadequate set-up, leading to embarrassing Zoom calls and even home office shaming by colleagues. As a result, 19% now say they are fed-up with home working and 15% say they are suffering from stress.
To restrict the spread of the coronavirus over the winter, the Government has asked those who can, to return to homeworking. The new research1 reveals some of the difficulties people are grappling with, from working from the sofa or their bed, to kids interrupting work calls and inadequate tech.
The research commissioned by GoCompare Home Insurance, reveals that finding a space to work is one of the biggest challenges. Only 27% said they have a dedicated workspace in their home, 9% admitted to having to keep moving around to find a space to work. Only a quarter of people working remotely are happy with their set-up.
The survey also looked at the spaces people were using in their home as a workspace. Only 24% had an existing home office which they could utilise for work. Most workers have had to get creative with improvised workplaces: 21% use their kitchen or dining room table, 15% have had to construct a homeworking space in a spare room. Other makeshift workspaces include the sofa (14%) and the bed (6%), while 4% have had to move a child out of a bedroom to create a home office.
Half of those restricted to homeworking said that they have had to spend money improving their working space, including buying office furniture (21%), painting and decorating (13%) and building work (10%).
For many, the novelty of remote working has worn off. Nearly a fifth (19%) surveyed said they were fed-up with working from home. Most (63%) have experienced issues with their home office set-up. Regular interruptions were a key gripe (19%), kids interrupting work call was an issue for 11% of people. Technology was a headache for some, with 13% saying their home's WiFi is not up to scratch, while 12% have problems with the strength of their phone signal.
Inadequate facilities have caused some people real problems in carrying out their work, adversely affected their performance and left 15% of home workers feeling stressed. 9% people said they have experienced an embarrassing video call due to their home set-up, while 6% have been in trouble with their boss and 5% confessed to missing a deadline. A minority (4%) had been shamed by work colleagues for their home working arrangements.
Lee Griffin, CEO and founder of GoCompare Home Insurance commented, "Since the outbreak of the coronavirus homeworking has become the norm for millions of people, to help stop the spread of the virus. Across the country an army of workers have set-up workstations on kitchen tables, in spare rooms and even their sofas and beds. With the rise in infection rates and new lockdown restrictions in place, millions of office workers will have to continue remote working.
"Employers have the same responsibilities for home workers as they would if they were working in an office. This means ensuring employees have the right equipment and technology, internet connection and office furniture. This includes support and training and appropriate risk assessments
Lee added, "If you're an office-based worker working from home as a result of the pandemic, you don't need to contact your insurer to update your documents or extend your cover. However, if you continue to work from home after restrictions are lifted, you may well need to check with your insurer, especially if, as part of your job you receive visitors to your home or hold company stock or assets at home as it is unlikely that you would be covered.
"Your employer would be responsible for having appropriate insurance for visitors or of company assets, such as computers and equipment, in employees' homes. Those who are deemed self-employed, so freelancers or those on some zero hours contracts, would need to consider specific business insurance and public liability cover for home working."
For more information on Covid-19 and insurance visit: https://www.gocompare.com/coronavirus-insurance-money/
-Ends-
For further information please contact:
Gordon, Jason or Liz at MAW Communications on 01603 505 845
Keep up-to-date with GoCompare on Twitter; @GoCompare
Notes to editors
1On 21-22 October an online survey of 2,044 randomly selected Great British adults was executed by Maru/Blue. For comparison purposes, a probability sample of this size has an estimated margin of error (which measures sampling variability) of +/- 2.1%. The results have been weighted by age, gender, region and social grade to match the population, according to Census data. This is to ensure the sample is representative of the entire adult population of Great Britain. Discrepancies in or between totals are due to rounding.
GoCompare
GoCompare is a comparison website that enables people to compare the costs and features of a wide variety of insurance policies, financial products and energy tariffs.
GoCompare does not charge people to use its services, and it does not accept advertising or sponsored listings, so all product comparisons are unbiased. GoCompare makes its money through fees paid by the providers of products that appear on its various comparison services when a customer buys through the site.
When it launched in 2006, it was the first comparison site to focus on displaying policy details rather than just listing prices, with the aim of helping people to make better-informed decisions when buying their insurance. GoCompare has remained dedicated to helping people choose the most appropriate products rather than just the cheapest, and has teamed up with Defaqto, the independent financial researcher, to integrate additional policy information into a number of its insurance comparison services. This allows people to compare up to an extra 30 features of cover.
GoCompare is the only comparison website to be invited to join the British Insurance Brokers' Association (BIBA) and is authorised and regulated by the Financial Conduct Authority (FCA).
For more information visit www.gocompare.com and www.gocogroup.com
Contact Information
Gordon Maw