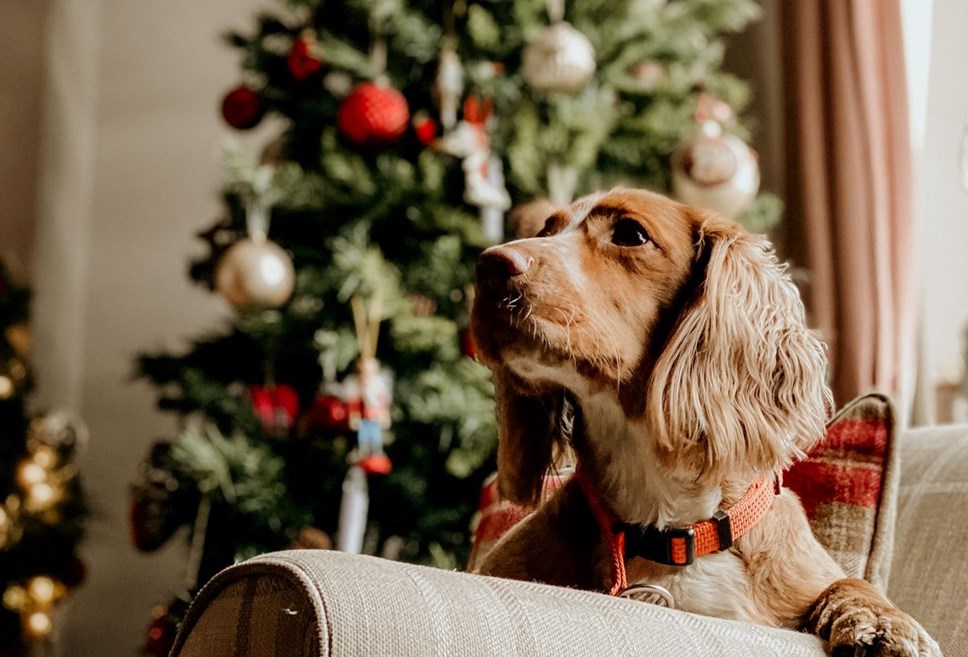 Mistle-NO: Go.Compare reveals the Christmas hazards that pet owners don't know about
Over half of dog owners (54%) don't know that mistletoe is toxic to their furry friends
New research from Go.Compare pet insurance has revealed that a number of pet owners can't identify a number of common Christmas hazards, and could therefore be setting themselves up for a doggie disaster this festive season.
There are a number of hazards dog owners need to be aware of during the festive season – and while some might surprise you, the real surprise is that according to Go.Compare's research, even the most 'common' dangers, like chocolate, aren't as well-known as you might think:
| | |
| --- | --- |
| Festive Hazard | % dog owners who know this is a hazard |
| Christmas chocolates | 82% |
| Mistletoe | 46% |
| Poinsettia | 42% |
| Scented candles | 41% |
| Holly | 38% |
| Christmas tree | 33% |
While eight in ten dog parents know that Christmas chocolates are toxic to dogs, it seems fewer people know about the risks scented candles, mistletoe, holly, and even the classic Christmas tree can pose.
Less than half of owners identified that festive mistletoe, holly and poinsettia plants are toxic to dogs. Holly is the least well known of the three, with just over a third recognising the danger it can pose to pets.
Scented candles are another little-known risk – with just four in ten recognising they can be bad for dogs. And Christmas trees – with sharp needles that can cause injury to our furry friends, plus the risk of broken ornaments – are even less likely to be seen as a danger, spotted by just three in ten dog owners.
Ceri McMillan, Go.Compare pet expert said:
"The festive period is the ultimate time to relax, unwind and enjoy the company of those we love – and this includes furry family members too, of course. However, not all of our festive traditions are pet safe, and it's important to be aware of the dangers.
"Lots of people know chocolate is toxic to dogs, and so are mince pies and Christmas pudding – so don't be tempted to share any of these sweet treats, regardless of those puppy dog eyes.
"Turkey might seem like a more appealing treat, but be careful – while skinless and boneless turkey meat is okay for dogs, avoid meat that's covered in salt, fat and gravy, as this could cause an upset stomach. Avoid sharing any cooked turkey bones, too, as these will be brittle and could cause injury if eaten," Ceri added.
"Consider your festive decorations, too. We advise pet owners to steer clear of glass decorations, as breakages do happen, and to consider putting wrapped presents out of reach of curious paws and mouths. Plants like holly, ivy, mistletoe and poinsettias can be toxic to dogs too, so avoid these if you have pets. Additionally, if you're lighting any scented candles, check these are pet safe. Candles made with paraffin wax or synthetic oils can let off chemicals that are toxic to dogs – and even some essential oils can be harmful when ingested – so choose your home décor carefully.
"Of course, another essential – whatever the time of year – is making sure you have the right protections in place with a pet insurance policy. So, take a look at the options available and choose a policy to suit you and your pets' needs."
Learn more about pet safety at Christmas : https://www.gocompare.com/pet-insurance/safety-at-christmas/
-Ends-
Contact Information
Rosie Johns
Notes to editors
For further information please contact:
Lynsey Walden on lynsey.walden@gocompare.com, or Kath Chadwick on Kathryn.chadwick@gocompare.com.
Notes to editors
*Data Source: On 9th-12th December 2022, an online survey of 2,000 randomly selected Great British adults was executed by Maru/Blue. For comparison purposes, a probability sample of this size has an estimated margin of error (which measures sampling variability) of +/- 2.1%. The results have been weighted by age, gender, region and social grade to match the population, according to Census data. This is to ensure the sample is representative of the entire adult population of Great Britain. Discrepancies in or between totals are due to rounding.
About Go.Compare
Go.Compare is a comparison website that enables people to compare the costs and features of a wide variety of insurance policies, financial products and energy tariffs.
It does not charge people to use its services and does not accept advertising or sponsored listings, so all product comparisons are unbiased. Go.Compare makes its money through fees paid by the providers of products that appear on its various comparison services when a customer buys through the site.
When it launched in 2006, it was the first comparison site to focus on displaying policy details rather than just listing prices, with the aim of helping people to make better-informed decisions when buying their insurance. It is this approach to comparing products that secured the company an invitation to join the British Insurance Brokers' Association (BIBA) in 2008, and it is still the only comparison site to be a member of this organisation.
Go.Compare has remained dedicated to helping people choose the most appropriate products rather than just the cheapest and works with Defaqto, the independent financial researcher, to integrate additional policy information into a number of its insurance comparison services. This allows people to compare up to an extra 30 features of cover.
Go.Compare is part of Future Plc and is authorised and regulated by the Financial Conduct Authority (FCA).
More information can be found here www.gocompare.com or here https://www.futureplc.com/brands/.