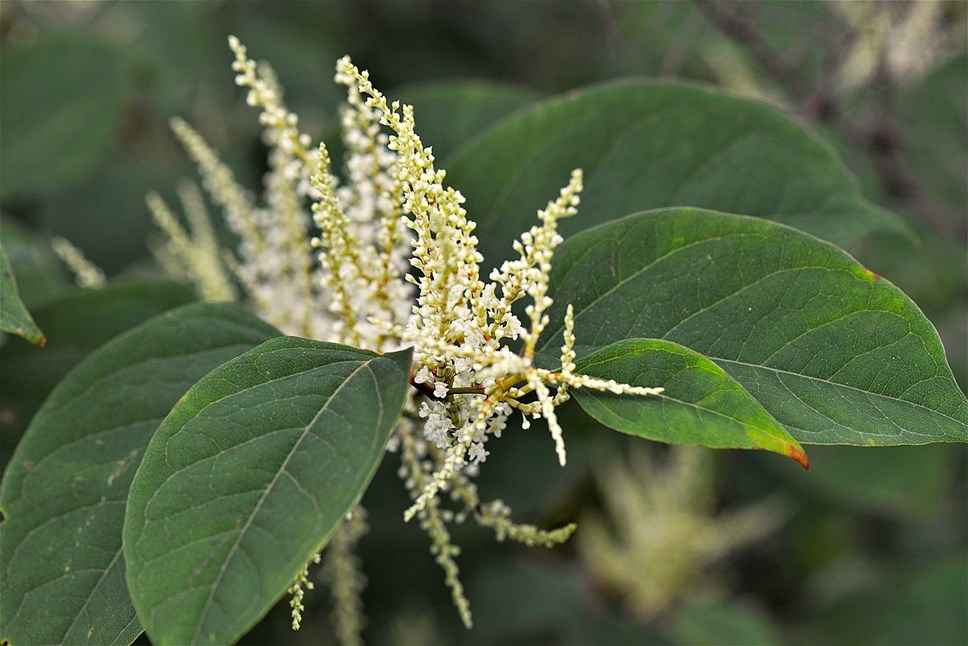 Homeowners in knots over invasive plant
Japanese Knotweed can cost thousands to remove and potentially devalue a property, but only 28% of us can recognise it
Japanese knotweed, an invasive plant known to cause significant damage to properties, affects 4-5% of UK homes directly or indirectly*, but new research** from Go.Compare home insurance has found that less than a third of us (28%) would be able to recognise the plant if we saw it, meaning some homeowners could be significantly out of pocket if it isn't spotted.
According to reports, the number of cases involving Japanese Knotweed has increased by 28% in the past five years*** and it can cost on average between £1,500-£2,000 to remove. So, being able to recognise the plant could stand you in good stead if you are looking to buy or sell a property - yet a staggering 62% of us aren't confident that we would be able to do so.
Japanese knotweed is a well-known stubborn and destructive weed which can grow more than 20cm a day and can reach up to 10 feet high. Its deep roots can also stretch more than seven metres wide - making it very difficult to get rid of. And when it comes to properties, it can cause significant damage - from destroying tarmac, paving, and drains, to making the walls of your home unstable. Its speedy growth means that it requires a lot of moisture and can get into and expand small cracks in brickwork, pipes and masonry.
Go.Compare's Home Insurance expert, Ceri McMillan said: "Japanese knotweed can cause real issues if it's left unattended, and the speed with which it grows means that problems can arise quickly. So, being able to spot the plant quickly will almost definitely save you money in the long term.
"In addition, most home insurance policies will exclude claims for damage caused by Japanese knotweed so you wouldn't necessarily be able to make a claim if it does cause issues. You may find that you are covered if you have a comprehensive buildings insurance policy and there's damage to the structure for your building, but if it came from your garden, it's unlikely you'll have a valid claim if you hadn't tried to treat and remove the Japanese knotweed before the subsidence happened."
"In a worst-case scenario, the plant can devalue your property as it has to be declared when you sell a property, meaning that potential buyers may offer a lower amount or even walk away from a sale," Ceri added.
If you're not sure if you have Japanese knotweed in your garden, you can identify it by its white flowers that bloom in spring, its distinctive heart-shaped green leaves and thick bamboo-like stems. If Japanese knotweed hasn't been discovered at your property before, but you are concerned about it, you could take out indemnity insurance, which provides protection against future infestation of the plant, and can include cover for the costs of a specialist survey and treatment.
For more information on Japanese knotweed, its impact and how to identify it, visit: https://www.gocompare.com/home-insurance/guide/japanese-knotweed/.
-Ends-
Contact Information
Rosie Johns
Notes to editors
For further information please contact:
Lynsey Walden on lynsey.walden@gocompare.com, or Kath Chadwick on Kathryn.chadwick@gocompare.com.
Notes to editors
* https://www.onthemarket.com/content/buying-or-selling-a-property-affected-by-japanese-knotweed/
**Data source: On 6-11th April 2023, an online survey of 2,063 randomly selected adults from Great Britain provided by Maru Public Opinion that was executed by the panel and data management experts at Maru Blue. For comparison purposes, a probability sample of this size has an estimated margin of error (which measures sampling variability) of +/- 2.1%. The results have been weighted by age, gender, region and social grade to match the population, according to Census data. This is to ensure the sample is representative of the entire adult population of Great Britain. Discrepancies in or between totals are due to rounding.
***https://www.propertyinvestortoday.co.uk/breaking-news/2021/9/japanese-knotweed-cases-increase-by-28-in-the-uk
**** https://www.checkatrade.com/blog/cost-guides/cost-removing-japanese-knotweed/
About Go.Compare
Go.Compare is a comparison website that enables people to compare the costs and features of a wide variety of insurance policies, financial products and energy tariffs.
It does not charge people to use its services and does not accept advertising or sponsored listings, so all product comparisons are unbiased. Go.Compare makes its money through fees paid by the providers of products that appear on its various comparison services when a customer buys through the site.
When it launched in 2006, it was the first comparison site to focus on displaying policy details rather than just listing prices, with the aim of helping people to make better-informed decisions when buying their insurance. It is this approach to comparing products that secured the company an invitation to join the British Insurance Brokers' Association (BIBA) in 2008, and it is still the only comparison site to be a member of this organisation.
Go.Compare has remained dedicated to helping people choose the most appropriate products rather than just the cheapest and works with Defaqto, the independent financial researcher, to integrate additional policy information into a number of its insurance comparison services. This allows people to compare up to an extra 30 features of cover.
Go.Compare is part of Future Plc and is authorised and regulated by the Financial Conduct Authority (FCA).
More information can be found here www.gocompare.com or here https://www.futureplc.com/brands/.