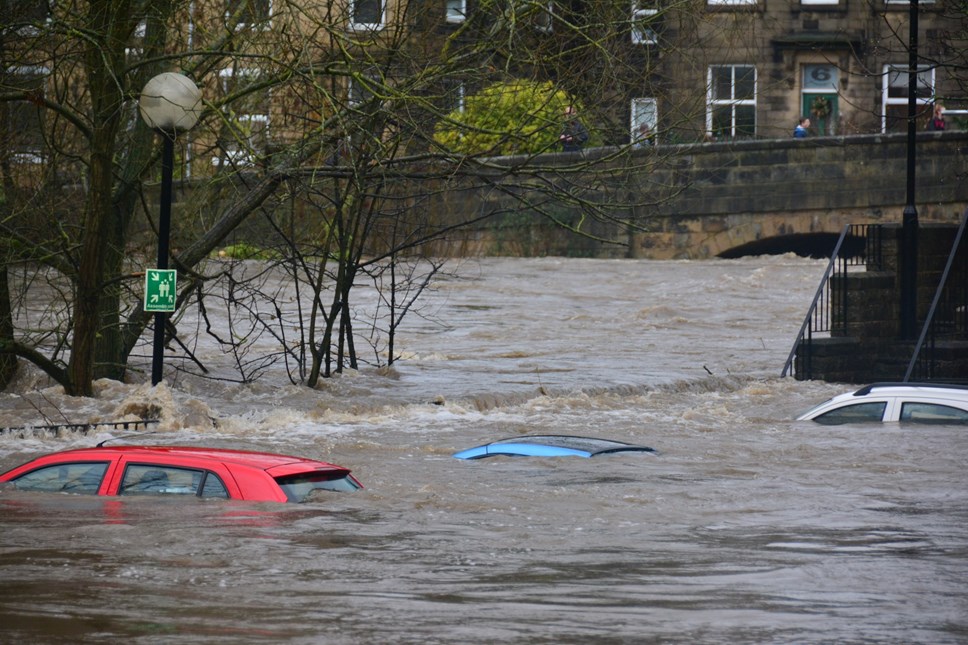 Home insurance quotes with flood damage claims have decreased by 30% despite increasing rainfall
Experts say extreme rainfall events are on the rise
UK is now 9% wetter than in the 1960s
Quotes with flood and storm damage claims have fallen by 30% and 20% since 2017
A recent report from Go.Compare Home Insurance has found a significant reduction in quotes with claims for flood and storm damage over the last five years, despite ever-increasing extreme weather events across the UK.[1]
In 2017, Go.Compare provided 3,448 home insurance quotes for properties that had previously claimed for flood damage. However, this decreased by 30% in 2022. A similar trend can be seen in the number of home insurance quotes that had a previous storm damage claim, which fell by over 20% between 2017 and 2022.
According to the Environment Agency, over 300,000 homes in England are now better protected from the effects of climate change after the government's investment in flood defences.[2] Upcoming schemes hope to reduce the national flood risk by another 11% and avoid around £32 billion of wider economic damages.[3]
Flood resilience advisor and campaigner of MDA Flood Resilience Consultants, Mary Long-Dhonau OBE, commented on potential causes of the reduction in claims: "The government has doubled its investment in flood risk management and there's also been a large increase in property flood resilience schemes, which will have reduced claims. But this is in combination with other factors.
"Climate change is here, and flood risk will continue to increase, especially surface water flooding. Clouds are now heavier and move more slowly. This means they stay and drop their contents in one localised area. This type of flash flooding is much harder to predict."
According to the Met Office, the UK is now 9% wetter than in 1961.[4] The average number of days with precipitation over the 99th percentile of daily rainfall rose by 22% between 1991 and 2022, when compared to the three decades before. Rainfall events exceeding 50 mm of rainfall have also increased.[5]
It is anticipated that the UK will experience much wetter winters going forward, with rainfall in the summer also becoming more intense. This will have a considerable impact on the regularity and severity of surface water flooding.
Ceri McMillan, home insurance expert at Go.Compare, said: "We hope that this downturn in flood and storm damage claims is a result of better flood protections and successful flood defence schemes. However, the latest expert data shows that surface water flooding is likely to become worse and more frequent, so investing in protection for your home is still incredibly important.
"Even if you don't live in a high-risk area, it's best to be covered for all eventualities. Flood insurance is included as part of any standard home insurance policy, so you won't need to take out extra cover, but you'll be protected from any damage or loss in the event of a flood."
More information, including advice on how to prepare for a flood, can be found on Go.Compare's website.
​​ENDS-
For further information or interview requests, please contact: francesca@itworksagency.com
Notes to editors - about the data
[1] In order to collect the data used in this report, we looked at the number of home insurance quotes we provided for prospective customers between 2017 and 2022. We identified the quotes which had previous claims for flood damage and storm damage.
[2] The statistics on more homes being protected from flooding were reported by the Environment Agency in 2021.
[3] Statistics on upcoming government schemes to manage flood risk can be found on the GOV.UK website.
[4] All rainfall statistics in this section were sourced from the Met Office, unless otherwise stated.
[5] The statistic on the average number of days with precipitation over the 99th percentile was sourced from the Office for National Statistics.
Contact Information
Lynsey Walden
Notes to editors
About Go.Compare
Go.Compare is a comparison website that enables people to compare the costs and features of a wide variety of insurance policies, financial products and energy tariffs.
It does not charge people to use its services and does not accept advertising or sponsored listings, so all product comparisons are unbiased. Go.Compare makes its money through fees paid by the providers of products that appear on its various comparison services when a customer buys through the site.
When it launched in 2006, it was the first comparison site to focus on displaying policy details rather than just listing prices, with the aim of helping people to make better-informed decisions when buying their insurance. It is this approach to comparing products that secured the company an invitation to join the British Insurance Brokers' Association (BIBA) in 2008, and it is still the only comparison site to be a member of this organisation.
Go.Compare has remained dedicated to helping people choose the most appropriate products rather than just the cheapest and works with Defaqto, the independent financial researcher, to integrate additional policy information into a number of its insurance comparison services. This allows people to compare up to an extra 30 features of cover.
Go.Compare is part of Future Plc and is authorised and regulated by the Financial Conduct Authority (FCA).
More information can be found here www.gocompare.com or here https://www.futureplc.com/brands/.