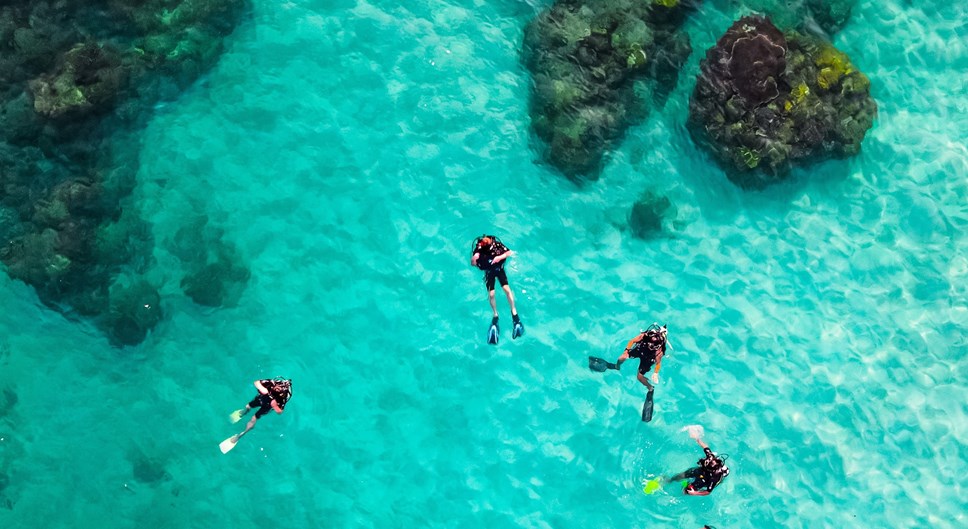 Have you got a scuba what your travel insurance covers?
New data from Go.Compare reveals the sports and activities your travel insurance might not cover
If you're planning on bungee jumping, quad biking, scuba diving – or any other sporting adventures – while on holiday, Go.Compare travel insurance is warning all thrill seekers to check their travel insurance to make sure they have the right cover in place.
New research from the comparison site shows that the level of sports cover available on policies can vary, depending on which policy you take out for your trip.
While some insurers cover certain sports as standard, others allow you to add cover for an extra fee, whereas some sports might not be covered at all.
The comparison site reviewed over 1,000 single trip and 1,000 annual travel insurance policies and found that the percentage of policies that include cover for leisure activities such as bungee jumping, quad biking and scuba diving varied significantly across the market.
The table below reveals the percentage* of policies that cover the following sporting activities as standard:
| | | |
| --- | --- | --- |
| Activity | Single trip | Annual |
| Bungee Jumping | 66% | 66% |
| Horse riding | 75% | 77% |
| Hot air ballooning | 80% | 82% |
| Parasailing | 88% | 88% |
| Quad biking | 5% | 8% |
| Scuba diving | 95% | 95% |
| White water rafting | 21% | 23% |
| | | |
Ceri McMillan, Go.Compare travel insurance spokesperson, commented on the findings: "We were quite surprised at the disparity with which certain sporting activities are covered by a travel insurance policy. We didn't expect scuba diving to be so high, nor quad biking to be so low in terms of the policies that offer this cover as standard.
"It's no secret that travel insurance policies vary in the level of cover that's provided, and that's why it's always a good idea to check the fine print before you travel. You may think about bungee jumping and know point blank that you're not going to be doing this on holiday, but there may be other activities that you decide to do which won't necessarily be covered.
Ceri continued: "A standard travel insurance policy will provide cover for a lot of eventualities, such as having to cancel your trip, the cost of medical expenses, or helping to replace lost or stolen possessions. But as the research shows, there are other risks that won't be included in a standard travel policy, so if you are planning particular adventures or activities, you can't assume you will be automatically covered. It's essential that you make sure you have the right protection in place if you do need to make a claim, and consider add-ons to give you the cover you need if the standard travel policy doesn't offer enough protection.
"In general, the riskier the sport the less likely an insurer will cover it. However, there may be further exclusions which need to be considered. For example, some travel policies will have an age cap on some activities and while some policies will cover certain sports as standard, you may find that if you're planning on taking that sport to a more extreme level, or even competing, you might not be covered. And the majority of insurance policies will state that any claims you make won't be accepted if:
You aren't wearing the appropriate safety gear for your chosen sport
You were behaving recklessly
Your judgement was impaired by alcohol or drugs."
For more information about sports cover and travel insurance, you can read Go.Compare's guide here: https://www.gocompare.com/travel-insurance/guide/adventurous-sports-insurance/.
Contact Information
Rubie Barker
Notes to editors
-Ends-
Notes to editors
* All information correct in Defaqto Matrix as at 7th July 2023.
For further information please contact:
Lynsey Walden on lynsey.walden@Gocompare.com, or Kath Chadwick on Kathryn.chadwick@Gocompare.com.
Keep up-to-date with Go.Compare on Twitter; @Go.Compare
About Go.Compare
Go.Compare is a comparison website that enables people to compare the costs and features of a wide variety of insurance policies, financial products and energy tariffs.
It does not charge people to use its services and does not accept advertising or sponsored listings, so all product comparisons are unbiased. Go.Compare makes its money through fees paid by the providers of products that appear on its various comparison services when a customer buys through the site.
When it launched in 2006, it was the first comparison site to focus on displaying policy details rather than just listing prices, with the aim of helping people to make better-informed decisions when buying their insurance. It is this approach to comparing products that secured the company an invitation to join the British Insurance Brokers' Association (BIBA) in 2008, and it is still the only comparison site to be a member of this organisation.
Go.Compare has remained dedicated to helping people choose the most appropriate products rather than just the cheapest and works with Defaqto, the independent financial researcher, to integrate additional policy information into a number of its insurance comparison services. This allows people to compare up to an extra 30 features of cover.
Go.Compare is part of Future Plc and is authorised and regulated by the Financial Conduct Authority (FCA).
More information can be found here www.Go.Compare.com or here https://www.futureplc.com/brands/.