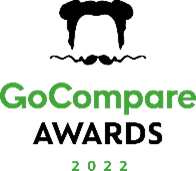 GoCompare's inaugural People's Choice Insurance Awards recognises outstanding UK insurance providers
Over 20,000 insurance policyholders surveyed, revealing that:
4 out of 5 consumers trusted their insurance brand.
2 out of 3 consumers believe the customer service of their insurance provider is excellent.
GoCompare is proud to announce the winners of its first People's Choice Insurance Awards – recognising quality and excellence in the insurance market in 2022.
This is the first year for the Awards which have been created to acknowledge those insurance companies who are deemed by UK consumers as 'excellent' or 'outstanding' for their product or service.
Over 20,000 responses:
An incredible 20,462 consumers across the UK were happy to share their opinions on their insurance providers currently in the UK market. The results were evaluated through assessment and scoring by several categories including trust, the likelihood of being recommended to friends and family, the level of customer service and satisfaction received, rewards offered, as well as how well claims and renewals were managed and how innovative the insurer was in terms of technology and product offering.
Lee Griffin, spokesperson for the People's Choice Awards, commented: "2022 is a pivotal year in the insurance sector for a number of reasons. It has been widely reported that living costs are on the increase so the strain on the pockets of UK householders is going to be tougher than in previous years. We predict that consumers will be scouring the market to get the best deal to help manage their finances – of which insurance can be a significant percentage – as well as making sure they have the right cover for their family's needs.
"As well as this the long-awaited GIPP (General Insurance Pricing Practices) rules came into force on January 1st, 2022, which means that new and returning customers will now pay the same for their insurance. The true impact of GIPP on premiums has yet to be seen but it serves as a good reminder for anyone looking to buy insurance that it's important to review your renewal and see how it stacks up across the rest of the market."
Lee added: "But as our survey has shown, it's not just about insurance cost that matters to UK consumers, customer service, ease of claiming and trust are also major factors when it comes to consumers choosing an insurance company. After all, putting your home or pet, and even your family's future finances in the hands of a company are important decisions that has many factors to consider."
About the awards:
The awards and all results are based solely on the vote of the consumers. None of the companies have paid to take part.
Generally, across the insurance sector, the research revealed that:
An average 79% of consumers trusted their brand of insurance cover.
An average 76% of consumers have confidence that their insurance product will protect them well.
An average 65% of consumers believe the customer service of their insurance provider is excellent.
Whilst most consumers interviewed were satisfied with their insurance provider, nearly 50% of consumers still like to renew their policy with their current provider, at the point of renewal. The new GIPP rules for car and home insurance are now in place putting an end to the 'loyalty penalty", however Lee continued, "There are hundreds of insurance providers, so it is important to compare all products to make sure you get the product and the price that is best for you."
Aviva, Churchill, and Axa had victories with votes of 'outstanding' and 'excellent' across all categories in car insurance. Admiral also championed in the Customer Service category as it was voted 'outstanding' by many customers.
Other insurers that did exceptionally well on the claims experience – deemed as outstanding were Direct Dial and Swinton.
As with car insurance, Swinton and Direct Dial were singled out as outstanding by those surveyed. Nationwide and NFU Mutual also scored high on home insurance with outstanding and excellent scores in many categories.
When it came to pet insurance, Bought by Many topped the poll for the most trusted provider, and one the UK people are most likely to recommend.
It also scored top for its level of overall satisfaction in the survey. Admiral received further 'outstanding' scores for the innovation and rewards offered for its pet insurance product.
It has been a challenging few years for the travel industry, but the survey shows that throughout the pandemic there has still been some excellent service from travel insurers, with Aviva receiving a full house of 'excellent' and 'outstanding' votes across various categories, with Post Office Money and StaySure gaining 'outstanding' votes when it comes to trust.
Lee added: "The travel insurance industry has seen unprecedented changes since 2020 and the market has had to adapt significantly in light of a global pandemic – and it's not just in the face of travel restrictions, but also changing the levels of cover that are available so that people can protect themselves if they do test positive for Covid-19 at any point in their travels. So, it was great to see so many providers get the thumbs up from their customers."
Scottish Widows and Royal London are two of the most trusted life insurance providers, according to the survey, with Churchill boasting the outstanding award for its level of innovation.
Closing words
Lee said: "These results have shown us that so many companies are working hard to provide an outstanding and excellent service to the UK public. Insurance is a tricky product for consumers as more often than not you don't really value it until you really need it, therefore trust, recommendation and customer service at times of claim are an essential part of what makes a great insurance provider, and ultimately the British people's choice.
"As a comparison site we look to guide consumers on what matters the most, providing clear, informative, and accessible information on the best insurance policies. We created these awards because we are on the side of the consumer. We want to recognise the excellence of all insurance providers as voted for by the consumer." Lee added.
Congratulations to all insurance providers who have scored well in the research. More details on how the insurance award winners were determined can be seen by visiting the GoCompare People's Choice Awards methodology report.
For full details about the awards and to see all winners of each category, please visit:
www.gocompare.com/peoples-choice-awards/2022/
-Ends-
For further information please contact:
Lynsey Walden – Lynsey.walden@gocompare.com
Or call us on 01633 654055 or 02920 020360.
Keep up to date with GoCompare on Twitter; @GoCompare
Notes to editors:
About GoCompare
GoCompare is a comparison website that enables people to compare the costs and features of a wide variety of insurance policies, financial products and energy tariffs.
It does not charge people to use its services and does not accept advertising or sponsored listings, so all product comparisons are unbiased. GoCompare makes its money through fees paid by the providers of products that appear on its various comparison services when a customer buys through the site.
When it launched in 2006, it was the first comparison site to focus on displaying policy details rather than just listing prices, with the aim of helping people to make better-informed decisions when buying their insurance. It is this approach to comparing products that secured the company an invitation to join the British Insurance Brokers' Association (BIBA) in 2008, and it is still the only comparison site to be a member of this organisation.
GoCompare has remained dedicated to helping people choose the most appropriate products rather than just the cheapest and works with Defaqto, the independent financial researcher, to integrate additional policy information into a number of its insurance comparison services. This allows people to compare up to an extra 30 features of cover.
GoCompare is part of Future Plc and is authorised and regulated by the Financial Conduct Authority (FCA).
More information can be found here www.gocompare.com or here https://www.futureplc.com/brands/.
Contact Information
Lynsey Walden