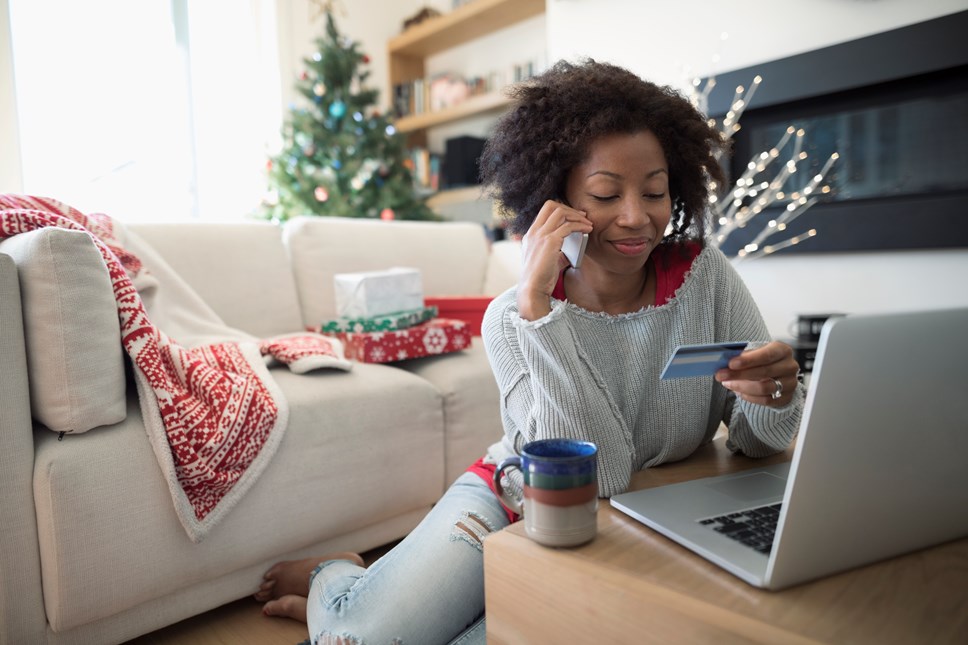 £20bn festive bill - UK households will spend an average of £719 celebrating Christmas
One in ten will put the whole cost of Christmas on their credit card
According to new research released today by GoCompare Money, the average British household expects to spend £719 on Christmas festivities this year. Collectively, the Nation will splash out £19.5 billion on gifts, food and drink, parties and Christmas decorations.1.
Presents for friends and families top the list of Christmas expenditure with an anticipated average cost of £365 per household, while a third expect to shell-out over £400.
Feasting will account for around a quarter of household's Christmas spending, with the average bill for food and drink coming to £172. Other seasonal costs include an average spend of £106 getting ready for and attending Christmas parties and, £76 on buying a Christmas tree and festive decorations and, on tickets for a panto and other seasonal experiences.
Anticipated Christmas spending

Christmas related outlay

Average per household

Collective spend

Presents for family and friends

£365

£9.9bn

Festive food and drink including supermarket shopping, turkey and all the trimmings

£172

£4.7bn

Christmas socialising including party tickets, meals, new clothing, accommodation and transport costs

£106

£2.9bn

Christmas tree and decorations, tickets to the panto and other Christmas themed experiences

£76

£2.1bn
The research also looked at how households fund their Christmas spending. Over half (54%) of those surveyed will foot the bill for the festivities from their income; 28% have put money aside throughout the year to cover the cost of Christmas. 10% of households will be relying on their credit card to cover the whole cost of Christmas.
Of those planning to use a credit card, 43% expect they will be able to clear the debt within a month but, the average time expected to repay the cost of Christmas card spending is 2.6 months.
Commenting on the research, Georgie Frost, consumer advocate at GoCompare Money said, "Christmas is meant to be the most wonderful time of the year, but the pressure to overspend can turn it in to one of the most stressful. Between buying gifts, socialising and all the festive food and drink - it's all too easy to get carried away.
"Try to set yourself a budget, and stick to it, but if you do find you have gone over then a credit card can be a good way to spread the cost. You also have the added bonus of greater protection n for any purchases over £100 (and under £30,000) under consumer law. You can get credit cards that will offer no interest payments for up to 29 months on new purchases.
"But you need to remember that whatever's spent on the card needs to be paid back on time. So, be realistic about how much you can afford to spend, otherwise you could be left with a festive financial hang-over."
For more information on credit cards visit: https://www.gocompare.com/credit-cards/
Tips from GoCompare Money on managing credit card debt
Take control.
When your statement arrives, don't ignore it; your debt will increase as interest is added to the outstanding balance.
Don't just make the minimum repayment.
Card issuers add interest to any outstanding balance therefore, the longer you take to repay the debt, the more money you will owe. If your debts are spread across more than one card, repay the most expensive card first.
Switch your credit card.
If you are currently paying interest, consider transferring your credit card balance to a new card with an extended interest free period on balance transfers. Make sure you make a diary note of when the introductory period ends so that you can avoid paying interest on the outstanding debt or set your direct debit at a level to repay the whole debt before then. You are usually required to pay a balance transfer fee for moving your debt. This is calculated as a percentage of the debt you're transferring onto the new card – which will vary from card to card.
Avoid fees for missed payments and cash.
Card issuers typically charge around £12 for missed payments. Avoid using your credit card as a cash card, the additional charges (between £1.50 and £5.00) make this an expensive way to borrow money.
If you are currently struggling with credit card debt visit: https://www.stepchange.org/
-Ends-
For further information please contact:
Anders Nilsson or Martyn John at GoCompare on 01633 654 054 / 01633 654 725
Gordon, Jason or Liz at MAW Communications on 01603 505 845
Keep up-to-date with GoCompare on Twitter; @GoCompare
Notes to editors
1.Average Christmas spend per household: £719.30. According to the Office for National; Statistics Families & Households: in 2017 there were 27.2 million households in the UK. 27.2 million x £719.30 is £19,564,960,000 (rounded to19.5bn).
On 8 November 2018, Bilendi conducted an online survey among 2,006 randomly selected British adults who are Maximiles UK panelists. The margin of error-which measures sampling variability-is +/- 2.2%. The results have been statistically weighted according to the most current education, age, gender and regional data to ensure samples representative of the entire adult population of United Kingdom.
Discrepancies in or between totals are due to rounding.
GoCompare
GoCompare is a comparison website that enables people to compare the costs and features of a wide variety of insurance policies, financial products and energy tariffs.
GoCompare does not charge people to use its services, and it does not accept advertising or sponsored listings, so all product comparisons are unbiased. GoCompare makes its money through fees paid by the providers of products that appear on its various comparison services when a customer buys through the site.
GoCompare does not sell its customers' data.
When it launched in 2006, it was the first comparison site to focus on displaying policy details rather than just listing prices, with the aim of helping people to make better-informed decisions when buying their insurance. GoCompare has remained dedicated to helping people choose the most appropriate products rather than just the cheapest, and has teamed up with Defaqto, the independent financial researcher, to integrate additional policy information into a number of its insurance comparison services. This allows people to compare up to an extra 30 features of cover.
GoCompare is the only comparison website to be invited to join the British Insurance Brokers' Association (BIBA) and is authorised and regulated by the Financial Conduct Authority (FCA).
For more information visit www.gocompare.com and www.gocomparegroup.com
Contact Information
Gordon Maw