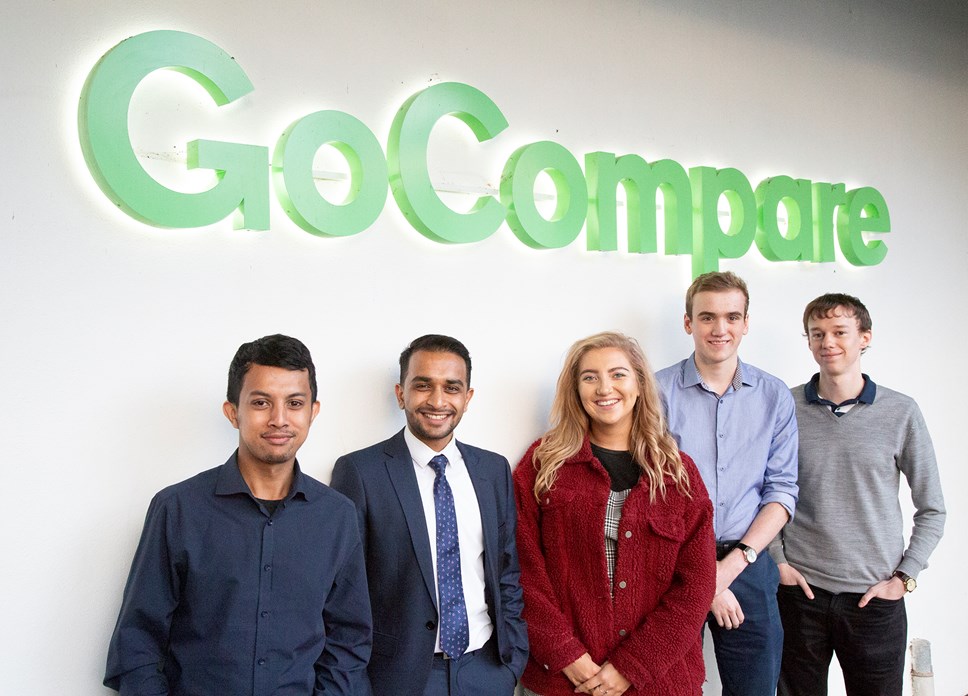 First students start GoCompare's flagship degree-apprenticeship programme
Local students will receive a job and a coveted degree with no student fee debt
The first intake of students to GoCompare's technology degree-apprenticeship have arrived at Aston University on today (Monday 26 November). The five students, all from schools near GoCompare's headquarters in Newport, south Wales, passed numerous assessments throughout the summer to earn a place on the four-and-a-half-year programme.
The sponsored degree programme, which is an important part of GoCompare's on-going, multi-million pound investment in its GoFurther Academy, will see each student work towards a BSc in Digital and Technology Solutions while also being employed at GoCompare. With tuition fees, an annual salary and benefits package, and accommodation and travel paid for by GoCompare, each student will receive over £100,000 worth of investment.
The programme will offer:
A competitive salary and benefits package
No student fee debt
Over four years' work experience at a nationally-recognised technology brand
A BSc honours degree from Aston University, the UK's first institution to offer degree apprenticeships
Lee Griffin, president and founder of GoCompare, said: "As a technology company, we rely on people with a diverse range of talents to come up with the ideas that will keep us at the forefront of innovation. So, we developed the GoFurther Academy as a clear statement of intent – it reflects our commitment to investing in the development and retention of the very best talent that will benefit our customers, our businesses and the growing tech community of south Wales.
"The degree apprenticeship programme, which we are delivering with Aston University, is the pinnacle of this. We have spent time talking to schools in our local communities and have identified some of the most promising young people who we want to support through university to give them the best possible start in meaningful and in-demand careers, and without the associated debt.
"Our goal is to develop homegrown expertise by giving people the chance to gain a degree and valuable, relevant work experience. We want to bridge the gap between education and the workplace, making sure that people develop the skills they need for work alongside a solid foundation in theory that will enable the big thinking we need as a business. I couldn't be happier with the first intake of students, and I'm looking forward to how seeing how they progress through the programme."
To earn a place on GoCompare's degree-apprenticeship programme, candidates had to meet certain merit-based eligibility criteria, pass Aston University's psychometric testing, and complete an assessment centre held at GoCompare's headquarters where they took part in group tasks and interviews.
The successful candidates are:
Vishal Patel, Cardiff and Vale College
Hayley Simpson, Saint David's Catholic College
Daniel Lloyd Davies, Cardiff and Vale College
Rifath Ahmed, South Gloucestershire and Stroud College
Matthew Binnie, Monmouth Comprehensive School
The students will undertake an initial seven-week, full-time boot camp with Aston University before stating an apprenticeship in GoCompare's industry-leading tech team, continuing their studies through a mixture of distance and classroom learning.
Deputy Vice-Chancellor Professor Helen Higson, Aston University, said: "GoCompare has demonstrated it is a technology business with a focus on its people, including those in its hometown of Newport. As a University we pride ourselves on widening participation, so we are delighted to be partnering with GoCompare to help deliver a significant kick-start to the careers of local Newport talent.
"At Aston we have had over 100 years' experience of forging links between learners, communities and businesses to ensure the best outcomes for all involved. A significant part of this is the degree apprenticeship, which we pioneered in the UK in 2015."
In addition to the pilot scheme with Aston University, the GoFurther Academy will also explore other opportunities with universities and colleges in south Wales and the rest of the UK, to identify skills gaps in tech and explore different initiatives in 2019 to create centres of excellence within the GoCompare Group.


For more information on the GoFurther Academy, visit www.gocompare.com/gofurther.
If you are a school, college or university interested in the scheme, please contact Jon Williams, talent management business partner, at jon.williams@gocompare.com for more details.
-ends-
Notes to editors
For further information, including pictures or interview requests, please contact:
GoCompare:
Anders Nilsson – 01633 654 054 / anders.nilsson@gocompare.com
Martyn John – 01633 654 725 / martyn.john@gocompare.com
Louisa Marsden – 01633 655 132 / louisa.marsden@gocompare.com
Aston University:
Rebecca Hume – 0121 204 5159 / r.hume@aston.ac.uk
About GoCompare Group plc
GoCompare.com Group plc operates GoCompare, a leading UK financial services, utilities and home services comparison website; MyVoucherCodes, which is a digital media and affiliate marketing specialist that connects consumers with money saving offers from the world's leading brands; Energylinx, an established energy switching and comparison service with more energy supplier relationships than any other UK comparison provider; and weflip, an innovative switching service that uses technology to automatically flip people onto cheap energy tariffs, forever.
GoCompare attracts approximately five million visits every month and is designed to help people save time and money.
When GoCompare launched in 2006 it disrupted the insurance market as the first comparison website to display policy details rather than just listing prices. GoCompare's goal was then, and still is now, to help people make better-informed buying decisions that save them time and money.
MyVoucherCodes.co.uk is one of the UK's biggest discount voucher websites. It launched in November 2006 and provides sales, discount and voucher code information to millions of consumers across the UK every month.
Each week, MyVoucherCodes send a variety of emails with the best selection of deals, vouchers and offers across fashion, restaurants, electronics, travel, beauty and more to its eight million email subscribers.
Energylinx is a domestic and business energy comparison and switching service that, through its market-leading supplier relationships, helps its customer find, compare and switch to the best value energy tariffs.
Based in Alloa, Scotland, Energylinx is also a trusted provider of white-labelled energy comparison services to over 200 partners, including some of the UK's best-known consumer organisations, including Which?.
weflip is a completely free to use automatic switching service. After customers sign up, weflip simply switches them onto better energy tariffs automatically, doing all the hard work on their behalf, so they never have to worry about overspending on energy ever again.
GoCompare.com Group plc uses data gathered from more than 20 million customers over the last 11 years to underpin its drive to continually improve its proposition and leverage its strong position.
The Group is also an investor in Souqalmal.com, the leading comparison business in the Middle East; and in promising fintech start up MortgageGym, the mortgage robo-adviser.
About Aston University
Founded in 1895 and a University since 1966, Aston is a long-established university led by its three main beneficiaries – students, business and the professions, and our region and society. Aston University is in Birmingham and at the heart of a vibrant city and the campus houses all the university's academic, social and accommodation facilities for our students. Professor Alec Cameron is the Vice Chancellor & Chief Executive.
Contact Information
Martyn John
PR & Social Media Manager
01633 654725