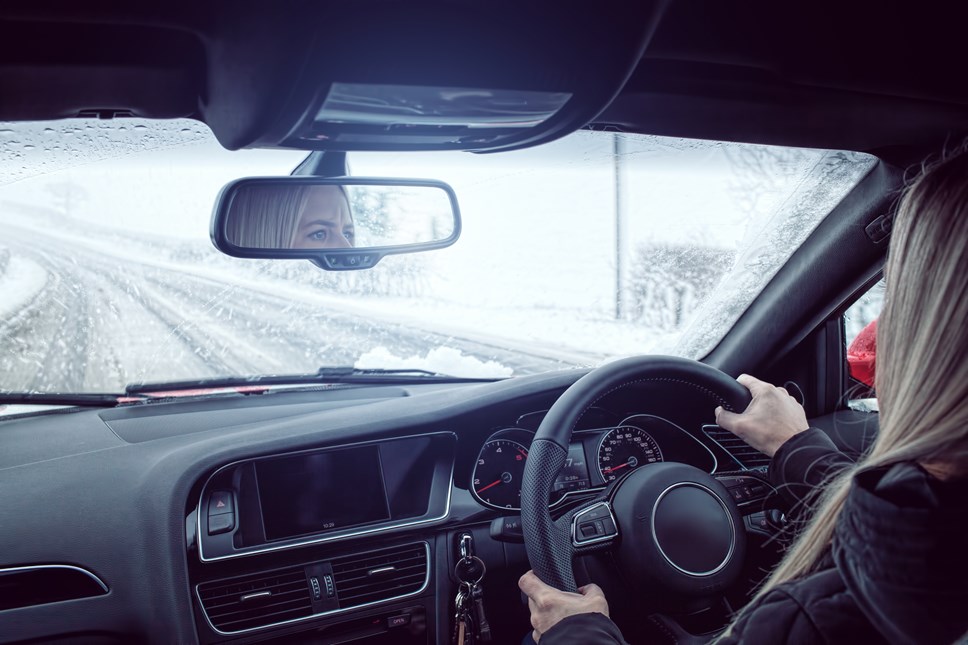 Drivers should be on red alert when it comes to invalidating their car insurance in the snow
GoCompare warns drivers they could be invalidating car insurance over the coming days
With temperatures plummeting and the Met Office issuing a yellow severe weather warning for ice across much of the country for tonight and Thursday morning, GoCompare Car Insurance is urging motorists to stay on red alert when it comes to their car insurance during the hazardous conditions.
GoCompare Car Insurance's Matt Oliver, said: "While driving when a yellow weather warning is issued doesn't affect your insurance cover, there are actually a number of ways drivers could invalidate their cover, or break the law when driving in adverse weather conditions.

"This means, even if your area has had its weather alert downgraded, you should still exercise caution when it comes to taking your car on the road, and avoid doing it if at all possible."

How drivers could invalidate their policies in four easy steps:

1) Not clearing snow from the roof of their car before heading off
"It might surprise you, but not clearing the roof of your car could both invalidate you cover and even land you with a police fine.
"Having snow on the roof of your car when driving can be a hazard for both yourself and other drivers. This is because there is a chance that the snow may fall off and obscure your vision or that of another motorist, especially when travelling at speed or braking.
"In most cases your insurer is unlikely pay out if you have been driving illegally or recklessly, and if you were to have an accident as a result of not clearing your roof, it could be deemed that you had been irresponsible."
2) Not de-icing and demisting the whole car
"Most people are aware that it is a legal requirement that before driving you need to ensure your windshield is clear from any obstructions, including ice – which means you have to thoroughly de-ice and demist your vehicle before setting off.

"However, what people sometimes forget is that this applies to all of the windows and mirrors on your vehicle, even if your car has parking sensors."

3) Leaving your car unattended while it warms up

"By law you have to de-ice and demist all of your vehicle, however, depending on how drivers go about this, they could find themselves without cover.
"Despite the freezing conditions, motorists will not be covered if they leave their vehicles unlocked and unattended while de-icing their car, especially if they leave their keys in the ignition. This is due to most policies having a duty of care clause.

"So, while it might be tempting to stay inside the house as the car warms up and demists, if someone were to jump in the car and drive off with it, you wouldn't be covered. So maybe it's just better to get thermals on instead."
4) Not driving appropriately for the conditions

"Just because there is not a red weather warning, doesn't mean you have carte blanche from your insurer to hit the road like you usually would.
"While most providers will pay out if you happen to have a collision in these conditions, it is also up to you to take responsibility for how you are driving. If the insurer deems you were driving irresponsibly, in light of the conditions, there is a higher chance they won't pay out.
"It's essential you check the details of any third party cover, as although many comprehensive cover policies will pay out if there is damage caused by adverse conditions, the same cannot be said for third party policies – which usually only cover damage to other vehicles. "
For more information on winter weather driving, visit GoCompare's guide at;
https://www.gocompare.com/car-insurance/winter-driving-guide/
-Ends-
For further information, please contact:
Anders Nilsson or Louisa Marsden at GoCompare on 01633 654 054 / 01633 655 132
Gordon, Jason or Liz at MAW Communications on 01603 505 845
Keep up-to-date with GoCompare on Twitter; @GoCompare
About GoCompare
GoCompare is a comparison website that enables people to compare the costs and features of a wide variety of insurance policies, financial products and energy tariffs.
GoCompare does not charge people to use its services, and it does not accept advertising or sponsored listings, so all product comparisons are unbiased. GoCompare makes its money through fees paid by the providers of products that appear on its various comparison services when a customer buys through the site.
GoCompare does not sell its customers' data.
When it launched in 2006, it was the first comparison site to focus on displaying policy details rather than just listing prices, with the aim of helping people to make better-informed decisions when buying their insurance. GoCompare has remained dedicated to helping people choose the most appropriate products rather than just the cheapest, and has teamed up with Defaqto, the independent financial researcher, to integrate additional policy information into a number of its insurance comparison services. This allows people to compare up to an extra 30 features of cover.
GoCompare is the only comparison website to be invited to join the British Insurance Brokers' Association (BIBA) and is authorised and regulated by the Financial Conduct Authority (FCA).
For more information visit www.gocompare.com and www.gocomparegroup.com
https://www.gocompare.com/car-insurance/winter-driving-guide/
Contact Information
Louisa Marsden
Senior PR Executive
GoCompare
01633 655 132