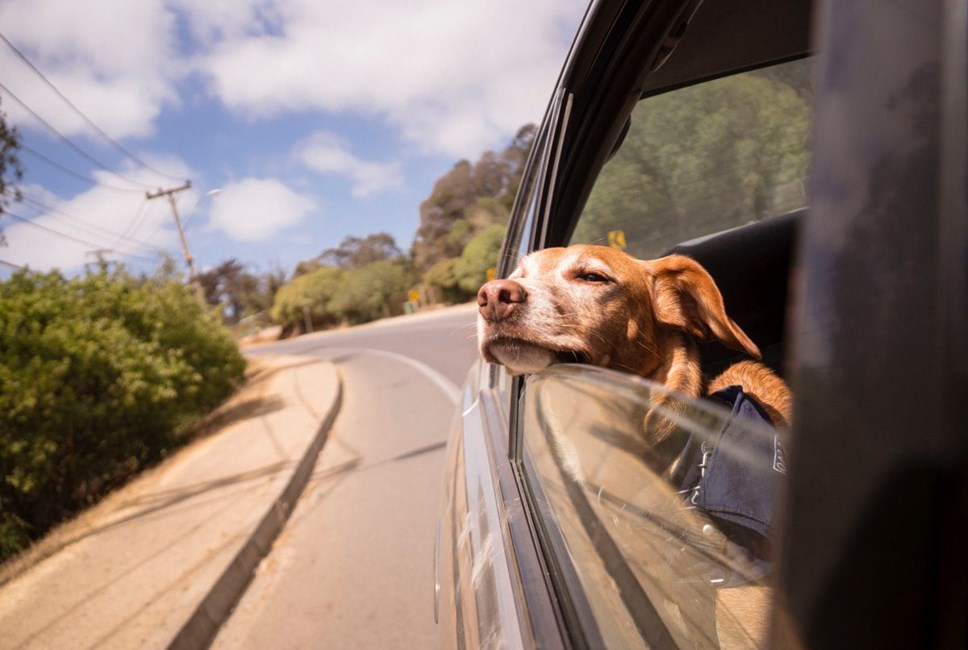 Drivers in the doghouse: more than 1.7 million motorists could be risking a £5,000 fine for ignoring this rule
15% of dog owning motorists admit to driving with their pet unrestrained in the car – which is against the Highway Code
Go.Compare's car insurance experts are warning motorists to take precautions if travelling with their dogs, as research shows many are unaware of the Highway Code rules and could be risking large fines, penalty points and even driving bans.
A recent survey* commissioned by Go.Compare Car Insurance reveals that despite a third (33 per cent) of dog owning British drivers being either unaware or unsure of the Highway Code's regulations on travelling with pets, more than 9 in 10 (94 per cent) of these pet-parents choose to hit the road with their pooch anyway.
As of 2022, Rule 57 of the Highway Code states: 'When in a vehicle make sure dogs or other animals are suitably restrained so they cannot distract you while you are driving or injure you, or themselves, if you stop quickly.'
Worryingly, 15 per cent of people admitted to travelling with dogs unrestrained in either the front or back seat – which is against the law. This means over 1.7 million motorists throughout the UK could be risking the doghouse.**
The penalties for breaking Rule 57 vary, but could see drivers slapped with an on-the-spot £1,000 fine, or a fine of up to £5,000 – and 9 penalty points – if taken to court. In extreme cases, motorists could even face a driving ban.
Ryan Fulthorpe, motoring expert at Go.Compare, said: "It is important to take the proper safety precautions when travelling with your dog. Making sure pets are properly restrained not only keeps them safe, but it also limits the chance they may move and distract the driver.
"Drivers have several options when it comes to securing their pets, including seatbelt harnesses, crates and cages designed specifically for cars, or – if you want your dog to travel in the boot – a dog guard to keep them contained there.
"In the event an accident occurs and you need to make a claim on your car insurance, your policy holder will consider your actions as a driver – and if you are judged to have been travelling
unsafely with your dog, this has the potential to affect your claim. So, it is vital you know the Highway Code and follow it carefully.
For more advice on driving safely with a dog in the car, visit: https://www.gocompare.com/motoring/guides/driving-safely-with-a-pet-in-the-car/.
-Ends-
Contact Information
Rosie Johns
Notes to editors
*Data Source: On 6th-10th April 2023, an online survey of 614 randomly selected Great British motorist dog owners was executed by Maru/Blue. For comparison purposes, a probability sample of this size has an estimated margin of error (which measures sampling variability) of +/- 4.0%. The results have been weighted by age, gender, region and social grade to match the population, according to Census data. This is to ensure the sample is representative of the entire adult population of Great Britain. Discrepancies in or between totals are due to rounding.
**This figure has been calculated using the estimated number of UK drivers on the road (source: RAC Foundation) with extrapolation of the findings from the study.
For further information please contact:
Lynsey Walden or Kath Chadwick at Go.Compare on lynsey.walden@gocompare.com or kathryn.chadwick@gocompare.com.
Keep up-to-date with Go.Compare on Twitter; @GoCompare
Notes to editors
About Go.Compare
Go.Compare is a comparison website that enables people to compare the costs and features of a wide variety of insurance policies, financial products and energy tariffs.
It does not charge people to use its services and does not accept advertising or sponsored listings, so all product comparisons are unbiased. Go.Compare makes its money through fees paid by the providers of products that appear on its various comparison services when a customer buys through the site.
When it launched in 2006, it was the first comparison site to focus on displaying policy details rather than just listing prices, with the aim of helping people to make better-informed decisions when buying their insurance. It is this approach to comparing products that secured the company an invitation to join the British Insurance Brokers' Association (BIBA) in 2008, and it is still the only comparison site to be a member of this organisation.
Go.Compare has remained dedicated to helping people choose the most appropriate products rather than just the cheapest and works with Defaqto, the independent financial researcher, to integrate additional policy information into a number of its insurance comparison services. This allows people to compare up to an extra 30 features of cover.
Go.Compare is part of Future Plc and is authorised and regulated by the Financial Conduct Authority (FCA).
More information can be found here www.gocompare.com or here https://www.futureplc.com/brands/.