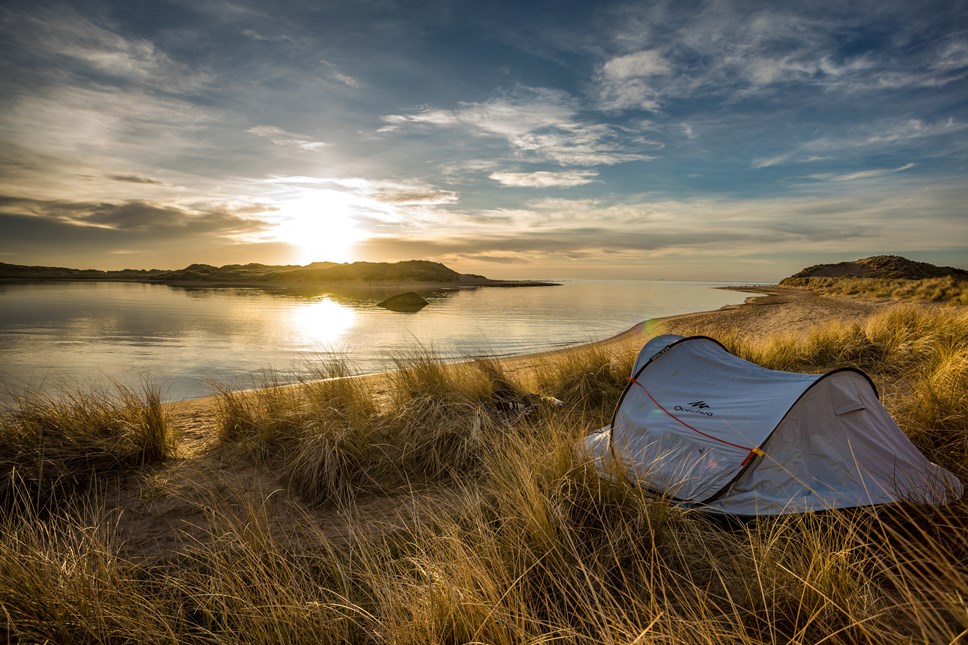 Don't forget travel insurance for UK holidays – as 38% of people say they're planning to staycate this year
With travel restrictions easing across the globe, many Brits will be eyeing up a holiday abroad this year, but according to new research from GoCompare travel insurance, more than a third (38%) of people are still planning to stay on home shores with a UK'ation in 2022.
But the comparison site is reminding those who are planning on a staycation this year that travel insurance isn't just for holidays abroad, and can help you cover costs if your UK holiday doesn't go to plan. While you won't need insurance for medical cover on a UK trip, there are other things to consider including cover for cancellations, lost or stolen luggage, damage to personal belongings and personal liability.
Cancellation cover could be particularly important for those planning a UK break during the school summer holidays, as the cost of self-catering breaks in the UK have increased significantly since the pandemic, with some research showing an average increase of 35% at 10 British seaside locations for holiday dates in July and August last year**.
Ryan Fulthorpe, GoCompare's travel insurance spokesperson, said: "With many of us planning UK trips this year, you might think that travel insurance isn't something you need – but that's not the case. If you think about the type of trip you're taking, that can help you work out whether or not travel insurance is a good idea. For example, if you're just popping to stay with a relative for the weekend and not taking much in terms of belongings, chances are you won't need insurance. But if you're planning a trip further afield and taking camping or camera equipment, walking gear and your gadgets, then it's worth purchasing ahead of your trip.
"Buying a travel insurance policy for a UK break could be a really good investment if something goes awry, but there are a few exclusions to be aware of – including the minimum distance you need to be away from home to be eligible to claim or a minimum number of nights away to make it count as a trip. Also, if it's a golfing holiday, it's worth checking if you are covered for golf equipment as this won't necessarily be included in all policies as standard."
In some cases, home contents insurance may cover you for the loss of and damage to your personal possessions while you're away from the home, but it's not something that's automatically covered, and many home insurance policies will only provide this as a paid-for extra. Some policies might also have limits for single items away from home, so it's important to check whether your policy has cover for items away from home and what the single items limits are.
The amount you can claim for the belongings you carry varies between contents insurance policies and limits are applied to single items (these can be as low as £250), and to the total amount you can claim for your personal belongings. Typically, items worth over £1,000 need to be specified, otherwise they won't be covered.
Specific cover limits, restrictions and exclusions usually apply to valuables (e.g. jewellery and watches), cash and cards, mobile phones, sports and camping equipment, and spectacles. Bicycles are only generally covered away from home if you have opted for personal possession cover and may include specific policy limits, terms, and conditions. For example, cycles may only be insured against theft if they are in a locked building and/or securely locked to an immovable object. Insurers expect you to take care of your belongings while they are away from home. Theft claims are likely to be declined if the items were left unattended.
Ryan added: "There is a lot to consider if you are packing for a family holiday with bikes, scooters and gadgets in tow, that's why it's important to consider how your possessions will be secured, how or if they are insured, and whether you are willing to risk it.
"What you don't want is for that long awaited break to be ruined by not having the right insurance cover in place, whether that be travel insurance or home contents insurance, so read your policy documents carefully and make a judgement call on what you can and can't safely take with you."
More information on personal possessions cover outside the home can be found here: https://www.gocompare.com/home-insurance/personal-possessions-cover-outside-the-home/.
And more information about travel insurance for a UK holiday can be found here: https://www.gocompare.com/travel-insurance/uk-cover/.
-Ends-
For further information please contact:
Lynsey Walden on lynsey.walden@gocompare.com, or Kath Chadwick on Kathryn.chadwick@gocompare.com.
Notes to editors
*1On 22nd – 24th April, 2022 randomly selected Great British adults was executed by Maru/Blue. For comparison purposes, a probability sample of this size has an estimated margin of error (which measures sampling variability) of +/- 2.1%. The results have been weighted by age, gender, region and social grade to match the population, according to Census data. This is to ensure the sample is representative of the entire adult population of Great Britain. Discrepancies in or between totals are due to rounding.
**https://www.which.co.uk/news/article/uk-seaside-accommodation-prices-surge-for-summer-dates-aYfPa5Q0a0Ds
About GoCompare
GoCompare is a comparison website that enables people to compare the costs and features of a wide variety of insurance policies, financial products and energy tariffs.
It does not charge people to use its services and does not accept advertising or sponsored listings, so all product comparisons are unbiased. GoCompare makes its money through fees paid by the providers of products that appear on its various comparison services when a customer buys through the site.
When it launched in 2006, it was the first comparison site to focus on displaying policy details rather than just listing prices, with the aim of helping people to make better-informed decisions when buying their insurance. It is this approach to comparing products that secured the company an invitation to join the British Insurance Brokers' Association (BIBA) in 2008, and it is still the only comparison site to be a member of this organisation.
GoCompare has remained dedicated to helping people choose the most appropriate products rather than just the cheapest and works with Defaqto, the independent financial researcher, to integrate additional policy information into a number of its insurance comparison services. This allows people to compare up to an extra 30 features of cover.
GoCompare is part of Future Plc and is authorised and regulated by the Financial Conduct Authority (FCA).
More information can be found here www.gocompare.com or here https://www.futureplc.com/brands/.
Contact Information
Lynsey Walden