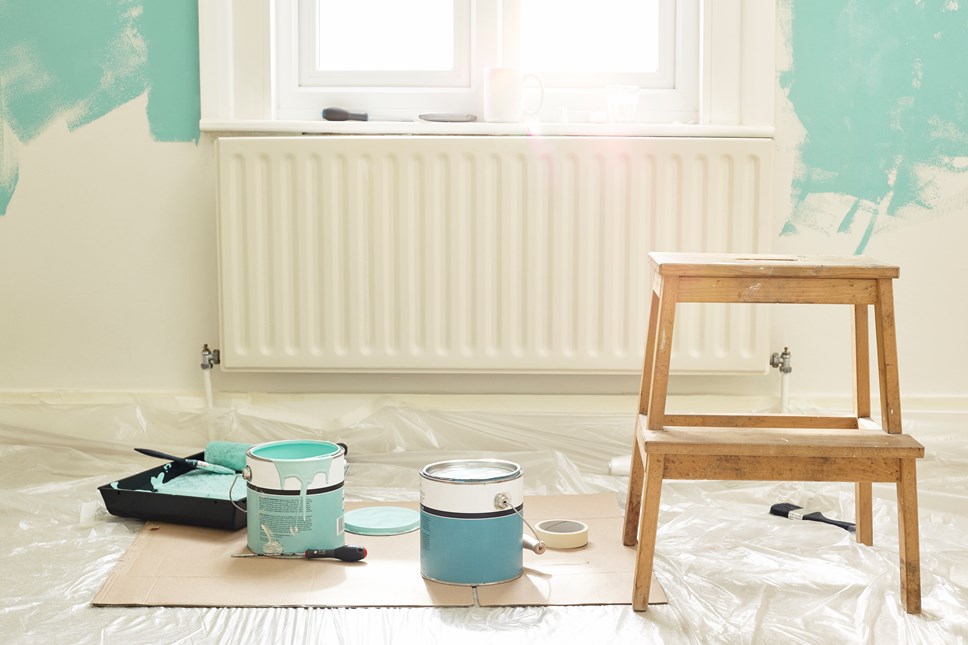 Covid Christmas DIY boom - 12.8 million households planning home improvements
Brits zhush things up at home for the sake of their mental health
GoCompare Home Insurance warns work could invalidate home insurance.
46% of Brits are planning home improvements in the run-up to Christmas.
36% are concerned about or unable to get tradespeople in due to Covid-19.
Most (54%) people are planning to do the work themselves.
However, only 39% say they are competent to do the jobs.
In the run-up to Christmas, millions of Brits are digging-out dustsheets and paint brushes to makeover their homes. New research1 commissioned by GoCompare Home Insurance, reveals that 46% of people are planning home improvements or repairs in the next few weeks.
Jobs on the Nation's to-do-list include garden improvements, revamping a bedroom or lounge, improving storage, and buying new furnishings. Other works include fitting a new or updating a kitchen or bathroom, plumbing repairs, adding an extension, and creating a dedicated workspace.
The increased amount of time spent at home because of the pandemic (28%) and improving mental wellbeing (18%) were key motivators for people planning work. Just under a quarter (24%) admitted to being 'sick of looking at the jobs that need doing'. 27% of people planning work are specifically doing so to make their home look nice for Christmas.
Most (54%) of those planning work on their home intend doing the jobs themselves, with a further 23% saying that they would DIY with help from family or friends. Yet only 39% said they felt competent to do the work.
As England moved into a second national lockdown from Thursday 5th November until Wednesday 2nd December, Housing Minister, Robert Jenrick, confirmed that tradespeople will still be able enter customers' homes to do work.
However, the survey revealed that coronavirus has left many people unwilling to call on professional help. Just under a quarter (23%) of those planning works to their home were concerned about having tradespeople in their home during the pandemic, while 13% said they believed they were unable to, due to Covid restrictions.
GoCompare Home Insurance is warning that tackling repairs and home improvements which you are not qualified to do - for example, electrical, gas or plumbing work - could not only be dangerous but could also invalidate your home insurance. Typically, policies exclude cover for structural alterations, renovations, poor workmanship, and faulty materials – so botched DIY is unlikely to be covered.
Most insurance policies do not cover accidental damage unless it has been specifically added. Accidental damage covers loss or damage to the insured's property and possessions caused by an unforeseen, incident. So, an accidental paint spill will not be covered unless you've opted for the extra protection.
Keeping on top of regular home maintenance jobs is important. Your insurance will not cover gradually occurring damage or that which could have been avoided by regular maintenance – such as cleaning gutters.
Lee Griffin, CEO and founder of GoCompare commented, "The pandemic has forced us to spend more time at home and, with winter approaching, most of us are looking at another prolonged spell indoors. Being confined at home can be a challenge as we find ways to strike a balance between spaces for living, working and play. Over the last few months people have been looking at ways to make the most of their home and any alterations needed to reflect their changing needs. Likewise, lockdown has given some people the time to get to grips with repairs and improvements.
"Our research illustrates the impact our homes have on our wellbeing. Simply updating the décor, buying new furniture and soft furnishing can give both a household a real lift. But, if you have a more complex job planned or work which involves electrical, gas or plumbing you should engage an expert. Depending on the work and where you live, you can still employ a tradesperson to work in your home if necessary - so long as the work is managed in a Covid-safe way. With local lockdowns now in place, you should refer to the specific restrictions for your area."
GoCompare Home Insurance's DIY tips:
Move belongings out of harm's way. Protect large pieces of furniture, flooring and carpets with dustsheets and masking tape.
Before drilling a hole - check wall or flooring for the position of embedded electrical wires or pipe work using a cable/pipe detector.
Make sure you have the correct tools for the job. For your personal safety read instructions and familiarise yourself with your tools.
Be realistic about the complexity of the job, your own capabilities and the length of time required to complete the task.
For electrical, plumbing and gas work – use a qualified tradesman.
For more information on accidental damage cover visit: https://www.gocompare.com/home-insurance/accidental-damage-and-home-insurance/
-Ends-
For further information please contact:
Gordon, Jason or Liz at MAW Communications on 01603 505 845
Keep up-to-date with GoCompare on Twitter; @GoCompare
Notes to editors
1The 12.8 million households figure is based on the ONS Families and Households report which identified 27.8 million households in the UK in 2019. From the GoCompare research, 46% of UK households say they are planning home improvements or repairs to make them feel better about all the time they are spending at home. 46% of 27.8m = 12.8m.
2On 21-22 October an online survey of 2,044 randomly selected Great British adults was executed by Maru/Blue. For comparison purposes, a probability sample of this size has an estimated margin of error (which measures sampling variability) of +/- 2.1%. The results have been weighted by age, gender, region and social grade to match the population, according to Census data. This is to ensure the sample is representative of the entire adult population of Great Britain. Discrepancies in or between totals are due to rounding.
GoCompare
GoCompare is a comparison website that enables people to compare the costs and features of a wide variety of insurance policies, financial products and energy tariffs.
GoCompare does not charge people to use its services, and it does not accept advertising or sponsored listings, so all product comparisons are unbiased. GoCompare makes its money through fees paid by the providers of products that appear on its various comparison services when a customer buys through the site.
When it launched in 2006, it was the first comparison site to focus on displaying policy details rather than just listing prices, with the aim of helping people to make better-informed decisions when buying their insurance. GoCompare has remained dedicated to helping people choose the most appropriate products rather than just the cheapest, and has teamed up with Defaqto, the independent financial researcher, to integrate additional policy information into a number of its insurance comparison services. This allows people to compare up to an extra 30 features of cover.
GoCompare is the only comparison website to be invited to join the British Insurance Brokers' Association (BIBA) and is authorised and regulated by the Financial Conduct Authority (FCA).
For more information visit www.gocompare.com and www.gocogroup.com
Contact Information
Gordon Maw