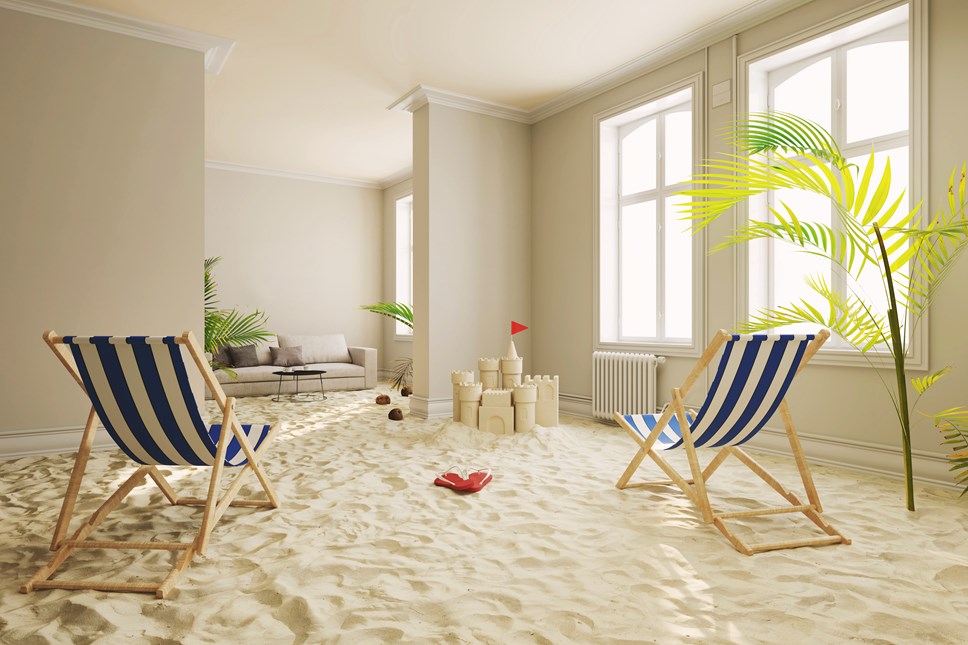 A third of lockdown purchases now gathering dust
Sewing machines, patio heaters and hot tubs are the most regretted purchases from previous lockdowns
New research1 from GoCompare home insurance reveals that more than one in 10 people regret some of their lockdown purchases, and a third (32%) of these items are now not being used and gathering dust.
During the pandemic and UK lockdowns, a third of people took up a new hobby or a side hustle and spent an average of £232 buying equipment for these new pastimes. With homes being the only place people could go for months, many people also spent money on indoor and outdoor bars, patio heaters and hot tubs to make their surroundings more comfortable.
Now, the research reveals that many of these items are now gathering dust around peoples' homes and 12% of those surveyed said that they regretted making the initial purchase of at least one of these items.
Of the items GoCompare asked about, the top ten lockdown items that people have regretted investing in are:
Patio heaters (18%)
Sewing machine (16%)
Hot tub (16%)
Musical equipment (10%)
Fire pit (9%)
Bread maker (9%)
Pizza oven (9%)
An outdoor or indoor bar (9%)
Gym equipment (8%)
Desks / office equipment (6%)
Ceri McMillan, from GoCompare Home Insurance commented: "During the UK lockdowns, people were understandably investing in items to make their surroundings more comfortable and, with extra time on their hands, they were also looking to start new hobbies and even side hustles. It was well documented at the time that more people were baking, sewing and turning their outdoor spaces into sanctuaries.
"And while some people will still be making good use of these gadgets and various pieces of equipment, it appears from our research that a lot of these items are just sat around gathering dust. If this sounds like you, it might be worth looking into whether you can resell these items.
"On the other hand, if you're loving your new purchases and intend to keep them, you might want to consider whether you have the right level of insurance cover in place to protect them, in case the worst should happen."
"When you take out a contents insurance policy, you will be asked about the amount you need to cover all of your possessions. It's important that you don't underestimate or overestimate the value of your contents, otherwise you may end up paying for cover you don't need, or if you need to make a claim, you might not have enough to cover you if you need to replace your belongings – even the ones you don't use," Ceri added.
GoCompare home insurance has the following tips to help people work out the value of their home contents:
Walk around your property and make a list of your possessions - including carpets, curtains, garden furniture, plus any possessions you keep in the attic, shed, garage or outbuildings.
Estimate how much each possession costs. If you're not sure, do some research to find what similar items are worth.
For any expensive single items, such as jewellery or gadgets, get an up-to-date valuation and look into personal possessions insurance.
Add the total cost of all your possessions combined to work out the amount of cover you need.
GoCompare also has a contents calculator which can help you ensure that your home insurance is fit for purpose when it comes to your home contents: https://www.gocompare.com/home-insurance/contents-insurance/contents-calculator/.
-Ends-
For further information, please contact:
Lynsey Walden or Kath Chadwick at Gocompare on lynsey.walden@gocompare.com or kathryn.chadwick@gocompare.com.
Keep up-to-date with GoCompare on Twitter; @GoCompare
Notes to editors
*1On 22nd – 24th April 2022, a survey of 2108 randomly selected Great British adults was executed by Maru/Blue. For comparison purposes, a probability sample of this size has an estimated margin of error (which measures sampling variability) of +/- 2.1%. The results have been weighted by age, gender, region and social grade to match the population, according to Census data. This is to ensure the sample is representative of the entire adult population of Great Britain. Discrepancies in or between totals are due to rounding.
Contact Information
Lynsey Walden
Notes to editors
About GoCompare
GoCompare is a comparison website that enables people to compare the costs and features of a wide variety of insurance policies, financial products and energy tariffs.
It does not charge people to use its services and does not accept advertising or sponsored listings, so all product comparisons are unbiased. GoCompare makes its money through fees paid by the providers of products that appear on its various comparison services when a customer buys through the site.
When it launched in 2006, it was the first comparison site to focus on displaying policy details rather than just listing prices, with the aim of helping people to make better-informed decisions when buying their insurance. It is this approach to comparing products that secured the company an invitation to join the British Insurance Brokers' Association (BIBA) in 2008, and it is still the only comparison site to be a member of this organisation.
GoCompare has remained dedicated to helping people choose the most appropriate products rather than just the cheapest and works with Defaqto, the independent financial researcher, to integrate additional policy information into a number of its insurance comparison services. This allows people to compare up to an extra 30 features of cover.
GoCompare is part of Future Plc and is authorised and regulated by the Financial Conduct Authority (FCA).
More information can be found here www.gocompare.com or here https://www.futureplc.com/brands/.