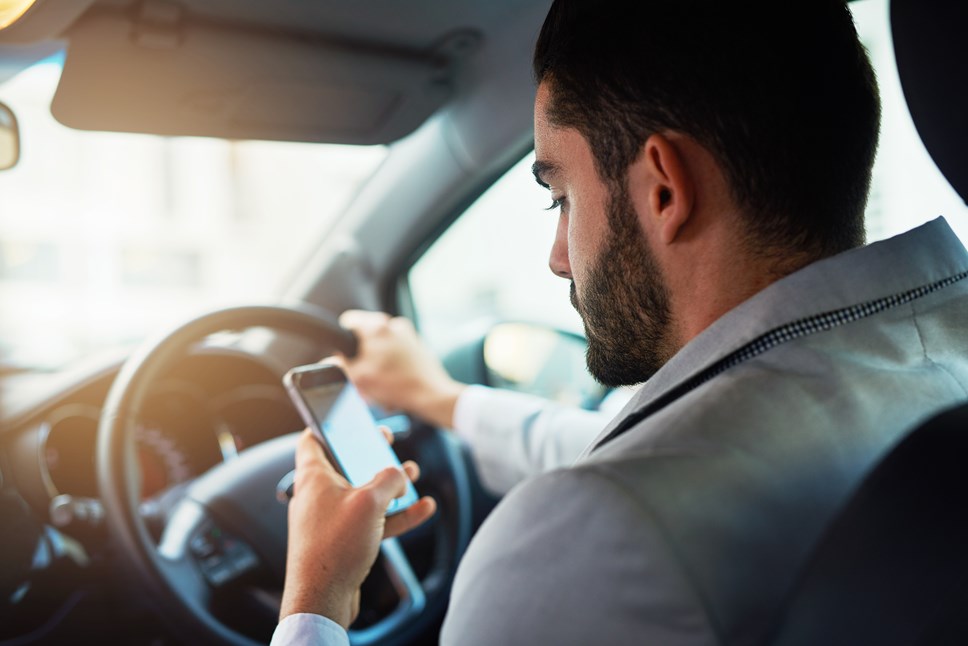 58% of young drivers using mobile phones behind the wheel
New research reveals that a third of all motorists are breaking the law with smartphone use
18% of all drivers admit to checking messages or emails behind the wheel;
11% of motorists make calls with a hand-held mobile phone;
A third of 18 to 24 year olds are changing music on phone or re-programming sat-nav apps while driving;
GoCompare Car Insurance warns that illegal phone use behind the wheel could cost drivers their licence.
New research from GoCompare Car Insurance has revealed that 34% of drivers use their mobile phone illegally while in their car, with the figure rising to a shocking 58% of 18-24 year old drivers.
The research reveals that more drivers are tempted to use their phone while waiting in traffic, with the number of drivers using their phone behind the wheel reducing to 25% while actually moving. However, the corresponding figure for 18-24 years olds hardly changes at all – dropping from 58% to 56%.
Nearly a fifth of motorists admitted to checking messages or emails on their phone when sat in a traffic queue, while 13% have used their mobile phone to change music or re-programme their sat-nav phone app.
Those aged 18 to 24 are nearly three times more likely to use their phone to change the music or to re-programme their sat-nav app while driving and nearly twice as likely to illegally make a call with a hand-held device.
Drivers' mobile phone use

Waiting in traffic

While moving

All drivers

18-24 year olds

All drivers

18-24 year olds

Using phone in some way

34%

58%

25%

56%

Checking messages or emails

18%

21%

10%

13%

Changing the music played through their phone or re-programming sat-nav app

13%

30%

12%

33%

Making a call on a hand-held device

11%

20%

9%

16%

Writing a message or email

9%

15%

6%

12%

Checking social media

5%

12%

3%

10%

Taking a photograph

4%

5%

3%

7%

Posting a social media update

2%

8%

2%

4%
Only 32% of the motorists surveyed put their phone out of reach while they are driving.
Driving laws have prohibited the use of hand-held mobile phones behind the wheel since 2003. Harsher penalties for hand-held mobile phone use while driving were introduced in 2017 to deter motorists from the potentially deadly distraction. The law also applies to stationary vehicles. The only time drivers are permitted to use a hand-held device is when they are safely parked, with their car's engine turned off and the handbrake applied.
The law allows motorists to use a hands-free mobile phone while driving. However, they can still be prosecuted if they are found not to be in proper control of their car or to have been distracted.
Offenders face fines of £200 and six points on their licence. Newly qualified drivers are only permitted to have six points on their licence in the first two years of driving – so could lose their licence as a result of a single phone call or social media update. To regain their licence, they must reapply for a provisional licence and can only drive as a learner until passing a further driving test.
Samuel Nahk, spokesperson for Brake, the road safety charity, said, "Mobile phone use behind the wheel, in any form, is illegal and highly dangerous and those who do it are selfishly putting other road users' lives at risk.†
"Anything that distracts a driver's attention from the road, even for a split second, can lead to devastation.
"Using a phone behind the wheel should be as unacceptable as drink driving, with studies showing that reaction times whilst texting are double those of drink-drivers. This new research makes it clear that mobile phone use behind the wheel is all too prevalent and a crackdown is required to rid our roads of this menace."
Matt Oliver, car insurance expert at GoCompare, said, "It's over 15 years since driving while using a hand-held mobile first became illegal. In that time, technology has developed rapidly and smartphones have become an invaluable part of most people's lives – helping us to do everything from communicating, paying for goods and helping us find our way around. And, as our research shows some people are so addicted to their phones they're prepared to break the law.
"But, using a hand-held mobile phone is one of the most dangerous distractions for drivers. It removes their attention from the road ahead, slows down reaction times and driving one handed can result in the driver not being fully in control of the vehicle - any of which could have potentially fatal consequences for themselves or other road users."
Matt Oliver continued, "To stay safe and on the right side of the law, drivers wanting to use their phone while driving need to make sure that it's hands-free. Devices should be fully set-up before they start driving. For example, a smartphone used for navigation should be in a cradle fixed to the car's dashboard or windscreen in clear view, without obstructing the driver's view of the road, with the destination programmed before setting off - so the phone does not need to be handled during the journey. Drivers should also remember that they can't use their smartphone to pay for items while driving – for instance when buying fast food from a drive through takeaway.
"In addition to the legal penalties and safety issues for hand-held mobile phone use while driving, motorists convicted of motoring offences will face higher insurance premiums."
For more information on driver distractions, including the video and info graphic, visit: https://www.gocompare.com/motoring/texting-while-driving/
For information on how driving convictions impact car insurance visit: https://www.gocompare.com/car-insurance/how-driving-convictions-impact-car-insurance/
-Ends-
For further information please contact:
Anders Nilsson or Louisa Marsden at GoCompare on 01633 654 054 / 01633 655 132
Gordon, Jason or Liz at MAW Communications on 01603 505 845
Keep up-to-date with GoCompare on Twitter; @GoCompare
Notes to editors
*On the 14 August 2018, Bilendi conducted an online survey among 2,006 randomly selected British adults who are Maximiles UK panellists. The margin of error-which measures sampling variability-is +/- 2.2%. The results have been statistically weighted according to the most current education, age, gender and regional data to ensure samples representative of the entire adult population of United Kingdom. Discrepancies in or between totals are due to rounding.
About GoCompare
GoCompare is a comparison website that enables people to compare the costs and features of a wide variety of insurance policies, financial products and energy tariffs.
GoCompare does not charge people to use its services, and it does not accept advertising or sponsored listings, so all product comparisons are unbiased. Gocompare makes its money through fees paid by the providers of products that appear on its various comparison services when a customer buys through the site.
GoCompare does not sell its customers' data.
When it launched in 2006, it was the first comparison site to focus on displaying policy details rather than just listing prices, with the aim of helping people to make better-informed decisions when buying their insurance. GoCompare has remained dedicated to helping people choose the most appropriate products rather than just the cheapest, and has teamed up with Defaqto, the independent financial researcher, to integrate additional policy information into a number of its insurance comparison services. This allows people to compare up to an extra 30 features of cover.
GoCompare is the only comparison website to be invited to join the British Insurance Brokers' Association (BIBA) and is authorised and regulated by the Financial Conduct Authority (FCA).
For more information visit www.gocompare.com and www.gocomparegroup.com
Contact Information
Louisa Marsden
Senior PR Executive
GoCompare
01633 655 132