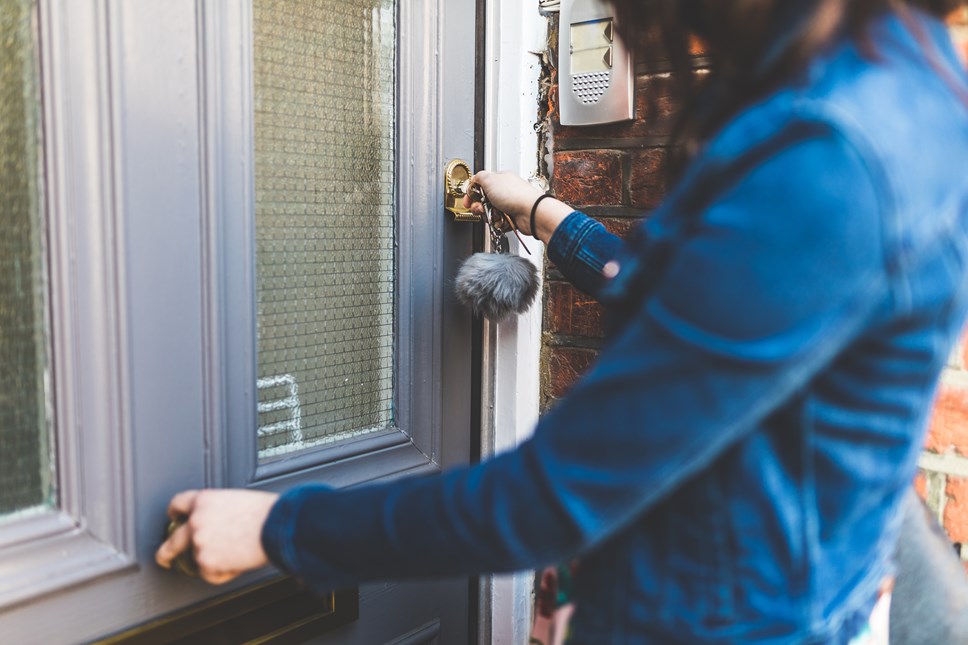 1 in 4 households turning to smart tech to protect their homes from thieves and burglars
79% of UK householders worry about being burgled but 83% also think they should be doing more to improve their home security
39% of householders rate their home security as poor to moderate at best;
25% have installed a smart tech security solution such as Hive Home, doorbell or internal and external wi-fi cameras;
22% have no other security than standard door and window locks;
Many householders risk invalidating their home insurance cover by failing to take basic precautions.
According to police figures*, the number of recorded burglary offenses in England and Wales fell by 3% in 2019, but that doesn't stop nearly 4 out of 5 (79%) UK householders worrying about being burgled.
And despite their worries, new research** from GoCompare Home Insurance has revealed that 83% of householders believe they could do more to protect their homes with 39% rating their security measures as moderate to poor at best.
Many of those who have taken steps to deter criminals from targeting their homes are turning to smart technology solutions. GoCompare found that 25% of householders have installed some of the latest wifi enabled security gadgets such as the Hive motion sensor system, doorbell cameras, and internal and external CCTV, many of which can be monitored from your smartphone wherever you have access to the internet.
Traditional burglar alarms, outside security lights and internal lights on timer switches are all popular security measures however 22% of householders admit to having no other security features for their homes aside from the standard door and window locks.
Most common home security features used by UK households
| | |
| --- | --- |
| Security Feature | % of UK homes |
| External security lighting | 33% |
| A traditional burglar alarm used regularly | 30% |
| High and strong garden fences and gates | 20% |
| A dog | 17% |
| A CCTV system | 14% |
| Internal lights on timer switches | 14% |
| A safe | 12% |
| Neighbourhood watch member | 11% |
| Wi-fi Cameras | 8% |
| A traditional burglar alarm but hardly used | 8% |
| A doorbell camera | 8% |
| Ultra-violet security markers | 7% |
| A 'smart' home security system (e.g. Hive Home) | 7% |
| A baseball bat or other weapon | 7% |
| A dummy burglar alarm box | 6% |
The survey also revealed how householders are routinely leaving themselves at risk of a break-in and in some cases potentially invalidating their home insurance cover at the same time.
When asked why they felt at risk of being burgled:
27% replied that they didn't have a burglar alarm
10% because of a lack of outside lighting
8% because their garden gates and fences are in a poor state of repair
5% replied that they regularly leave doors and windows open
3% leave a key hidden outside (i.e. under the doormat)
3% often don't turn their burglar alarm on
GoCompare Home Insurance expert Ryan Fulthorpe explains:
"The development of compact, wi-fi enabled cameras coupled with smartphones is enabling lots of people to improve the security of their homes for a relatively small outlay. Although traditional security measures such as full burglar alarm systems and outside sensor lighting are still most popular, it's clear that smart technology is revolutionising home security.
"However, the best protection on the market is useless if you're not using it properly. And worse, it may even invalidate your home insurance cover in the event that you need to make a claim. For example, many insurers quote lower premiums for homes with burglar alarm systems but if you don't have it switched on when you're out or at night and a burglar breaks in, your insurer may refuse to payout. Similarly, leaving doors and windows unlocked or keys hidden under a doormat could make it easy for a criminal to gain access to your home and an insurer may argue that you didn't take reasonable precautions to secure your home and refuse to pay out for anything damaged or stolen.
"The best security measures are those which deter criminals from considering your home an easy target. Locked doors and windows, alarms, security cameras, outside sensor lights and good boundaries such as fences, dense hedges and locked gates will all make it more difficult for a criminal to break in and get away with it."
For more information on what might cause you to invalidate your home insurance go to:
https://www.gocompare.com/home-insurance/invalidating-policies/
-Ends-
For further information please contact:
Anders Nilsson or Louisa Marsden at GoCompare on 01633 654 054 / 01633 655 132
Gordon, Jason or Liz at MAW Communications on 01603 505 845
Keep up-to-date with GoCompare on Twitter; @GoCompare
Notes to editors
*Source – ONS – Crime in England and Wales: year ending December 2018.
**On 13 May 2019, Bilendi conducted an online survey among 2,004 randomly selected British adults who are Maximiles UK panelists. The margin of error-which measures sampling variability-is +/- 2.2%. The results have been statistically weighted according to the most current education, age, gender, and regional data to ensure samples representative of the entire adult population of the United Kingdom. Discrepancies in or between totals are due to rounding.
GoCompare
GoCompare is a comparison website that enables people to compare the costs and features of a wide variety of insurance policies, financial products, and energy tariffs.
GoCompare does not charge people to use its services, and it does not accept advertising or sponsored listings, so all product comparisons are unbiased. GoCompare makes its money through fees paid by the providers of products that appear on its various comparison services when a customer buys through the site.
GoCompare does not sell its customers' data.
When it launched in 2006, it was the first comparison site to focus on displaying policy details rather than just listing prices, with the aim of helping people to make better-informed decisions when buying their insurance. GoCompare has remained dedicated to helping people choose the most appropriate products rather than just the cheapest, and has teamed up with Defaqto, the independent financial researcher, to integrate additional policy information into a number of its insurance comparison services. This allows people to compare up to an extra 30 features of cover.
GoCompare is the only comparison website to be invited to join the British Insurance Brokers' Association (BIBA) and is authorised and regulated by the Financial Conduct Authority (FCA).
For more information visit www.gocompare.com and www.gocomparegroup.com
Contact Information
Louisa Marsden
Senior PR Executive
GoCompare
01633 655 132